The impact of extreme weather patterns on construction
KEY HIGHLIGHTS
There was an average of 520 natural catastrophes per year between 1989 and 2018
In 2019 alone, there were 820 catastrophes — a nearly 58% increase from the average over the last three decades
61% of construction executives predicted weather will have an impact on their operation in 2020
It's no secret that the construction industry is directly affected by weather events. In fact, to a certain extent, decisions related to project plans, material choices, building strategies, and labor and construction timelines are all shaped by weather and climate. While the construction industry has always been affected by weather, severe weather events and natural disasters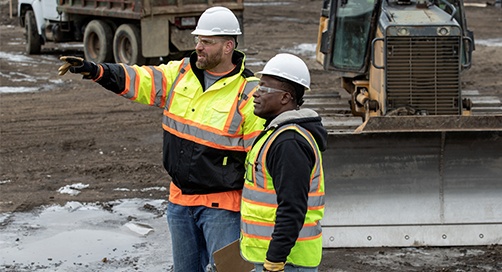 have become more frequent and intense. This has led to significant economic losses and created a challenging environment that contractors must now navigate.
According to the Insurance Information Institute, there was an average of 520 natural catastrophes per year between 1989 and 2018. In 2019 alone, there were 820 — a nearly 58% increase from the average over the past three decades.1 Furthermore, in a recent survey, 61% of construction executives predicted weather will have an impact on their operations in 2020.2
This article examines the nature of extreme weather and natural disasters, and how these events affect multiple aspects of the construction industry.
How natural disasters affect the construction industry
Natural disasters and extreme weather, such as hurricanes, wildfires and floods, have a profound effect on the construction industry. As these events become increasingly costly and common, it's critical that construction firms understand the different ways weather can disrupt their operations:
Labor impacts — Securing skilled labor is a continued challenge for contractors that is magnified following weather events. For example, after a flood, general contractors frequently need to bring on subcontractors to help with remediation efforts. However, if the flood impacted multiple businesses in the area, these professionals are likely to be in high demand and short supply. Extreme weather can make it difficult for a contractor's own workers to get to the job site, leading to recovery delays.
Material scarcity — Following a natural disaster, there is often an increased need for certain materials. That's because natural disasters not only devastate residential housing, but commercial property as well, and there is an increase in restoration activity in a condensed timeline. In these instances, many firms are bidding on the same materials, driving up costs.3
Demand surges — A demand surge refers to the increased cost to repair or replace damaged property following a large-scale disaster, when construction firms compete for a limited supply of labor and materials needed for repair projects.4 Local supplies of materials, labor and equipment are typically deployed first to rebuild after natural disasters. When the local supplies are outstripped by demand, prices rise. In situations where a demand surge occurs, the cost of construction can increase by more than 20%.5
Disruptions and delays — In total, weather-related delays cost the construction industry $4 billion annually, and that's just in the United States.6 Specifically, inclement weather can create unsafe working conditions, damage equipment, delay material deliveries or block access to a job site — all of which can extend project timelines and increase construction costs. Unforeseen delays can also create contract issues that may balloon to bigger problems, including litigation. In short, costs related to construction delays can add up quickly. Even if a firm has a plan for inclement weather, the sheer volume and unpredictability of these events can overwhelm the most prepared companies.
Damage to equipment and projects7 — Weather of all kinds has the potential to impact a business's equipment. To protect themselves from losses, many construction businesses have plans in place to shelter their equipment from weather damage. However, these plans tend to be location- and climate-specific. As weather patterns continue to change and become increasingly severe, more construction firms will find themselves ill-prepared to respond to severe weather and protect their equipment. Just one natural disaster can destroy all of a business's equipment or an entire project. In some instances, firms may not be able to recover from losses of this scale.
Preparing for natural disasters and extreme weather events8
When it comes to natural disasters and how they impact the construction industry, it's important for firms to be proactive rather than reactive. Doing so can help businesses mitigate the effects of natural disasters on their operations.
For many businesses, it's not a question of if extreme weather will cause damage and disruptions, but when. As such, it's crucial that firms understand how to prepare for and respond to natural disasters and similar events:
IDENTIFY EXPOSURES AND WORST-CASE SCENARIOS — The earlier a business prepares for extreme weather, the better equipped they will be to respond appropriately, should disaster strike. Firms should evaluate the different types of natural disasters that could impact their business. Above all, firms will want to examine worst-case scenarios related to how different weather events (e.g., wildfires, hurricanes, floods and tornados) could harm their operations.
CREATE AN EMERGENCY ACTION PLAN — Once a contractor has identified their exposures relative to natural disasters, they should take proactive steps to safeguard their employees, tools, equipment and projects. This can be accomplished by creating an emergency plan. That plan should be in writing and address all of the steps the firm must take in the event of a natural disaster. Plans should outline employee expectations and assign responsibilities related to its execution. Put simply, everyone involved in the business should understand their role when it comes to disaster response. Furthermore, plans should be stored in multiple locations and in areas where employees and other stakeholders can easily access them. It should be noted that the Occupational Health and Safety Administration (OSHA) requires most employers with 10 or more employees to have an emergency action plan in writing.
INVOLVE EMPLOYEES AND TEST THE PLAN — When it comes to creating an effective plan, firms should involve employees throughout every step of the process. Employee participation not only helps businesses identify potential exposures they may have otherwise overlooked, but it can also help them gain employee buy-in. Once workers have contributed to the plan's creation, it's important to test it. Firms should consider running drills with their workforce and allow them to provide feedback throughout the process. Remember, just because an organization has a plan doesn't mean employees are going to be aware of it or even understand how to respond in emergency situations. Training employees on the disaster response protocols outlined in the plan will better prepare businesses and their workers, should the plan be needed.
UPDATE THE PLAN — No two construction firms are the same, and plans should account for the uniqueness of different businesses, as well as the various equipment and technology they employ. Job sites change over the course of a project, and the way businesses respond to a disaster may need to change with the job site. In fact, change is constant in construction. Contractors are regularly hiring new employees, using new equipment, securing new materials and bringing on new subcontractors. Outdated plans that don't reflect changes to the work environment may not be effective in responding to natural disasters. The key here is to regularly revisit emergency plans throughout a project to ensure they are appropriate for your evolving job site.
WORK WITH EXPERTS TO REVIEW EXPOSURES AND SECURE THE PROPER INSURANCE COVERAGE — No matter how prepared an organization is to deal with natural disasters, losses can and will still happen. As such, it's important for contractors to work with their insurance brokers before a project to ensure that they have proper insurance in place to address exposures related to natural disasters. It's also vital for firms to have a solid understanding of their coverage, which ensures they secure the proper limits and have a sense of what may or may not be covered under their policy in terms of catastrophic events.
While the above strategies can help organizations prepare for natural disasters and other extreme weather, the truth is that emergency planning is not a one-and-done affair. In fact, emergency action plans are living and breathing documents that should evolve based on weather trends and lessons learned from previous disasters. Construction firms need to be agile and adjust their emergency plan following a natural disaster using post-event insights. Businesses must be willing to assess their performance in disaster situations, thinking critically about aspects of their plan that could be improved to assure stronger, quicker responses in the future.
KEY TAKEAWAYS
While the construction industry has always been affected by weather, severe weather events and natural disasters have become more frequent and intense.
This has led to significant economic losses and created a challenging environment that contractors must now navigate.
It's important for firms to be proactive rather than reactive and understand how to prepare for and respond to natural disasters and similar events.