3 Ways Agents Can Improve Customer Service Amid Economic Uncertainty
Nationwide's latest Agent Authority research identifies opportunities for agents as consumers share their top needs and challenges
Consumers seek more education on their policies and support beyond traditional insurance needs.
Economic uncertainty has driven 8 in 10 consumers to reevaluate their insurance coverages
Americans from coast to coast have experienced significant life changes as a result of COVID-19's crippling impacts. For many, the economic repercussions have spurred them to revisit their finances and insurance needs, according to Nationwide's latest Agent Authority research.
Although consumers and agents agree working with a trustworthy, accessible and cost-effective agent is a priority, the study showed they want more education from their agents as nearly half (47%) are challenged with understanding what is and is not covered in their policy. Further, customers are looking for more information from their agents on topics like retirement planning, cybersecurity and the economy.
As clients shift their focus, agents can enhance relationships, strengthen confidence and improve retention by stepping in to fill service gaps, delivering proactive guidance and offering new solutions to meet evolving needs.
Our Agent Authority research points to three steps agents can take to help respond to evolving client needs:
1. Identify solutions to meet new customer needs
A lot has changed in 2020, including the needs of many personal lines customers
44% of consumers are reviewing one or more of their insurance policies.
13% of consumers asked their agent to look at different carriers to find a better price or coverage.
Consumers are evenly split in their preference for a physical vs. digital experience with their agent. 51% prefer to have an agent where they're located. 49% prefer to handle all insurance needs digitally.
Consumers want to know they have the right coverage and the right price, and many are reviewing their policies and coverage as their driving behaviors and risk profiles change. Agents should  stay up-to-date on industry trends and innovative solutions like telematics, which can offer potential savings by allowing customers to pay for insurance based on their personal driving habits – including how much and how safely they drive.
Agent-centric technology like Nationwide Express also enables agents to quote multi-line policies and complete sales in minutes, helping you effectively reach customers through your own website or mobile device.
2. Proactively address pricing and non-traditional solutions
Consumers are becoming more value conscious and looking to agents for more than just traditional insurance.
45% of consumers are looking to find the best price for their needs; 57% of agents say they struggle to maintain clients because of pricing.
Consumers are looking to agents for more than just insurance. Some are looking for guidance on topics like retirement (26%) and cyber security (16%).
52% of agents feel challenged to educate clients about different types of coverage.
Roughly half of consumers struggle with finding the best price for their needs, stressing the importance for agents to reinforce that price is only one of several important considerations when evaluating insurance. Be prepared to offer solutions beyond traditional insurance, including cyber security and retirement planning.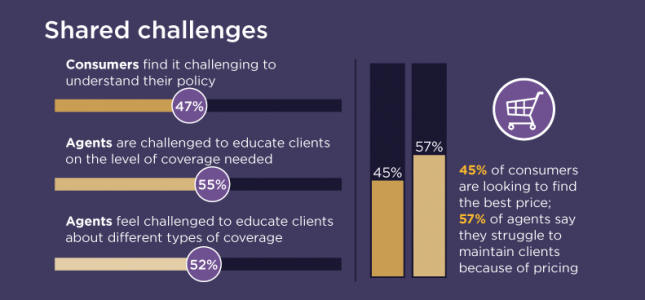 3. Don't be afraid to talk about the economy
Consumers are nervous about the economy and say they'll be reassessing their insurance needs as a result.
47% of consumers indicate they have or will be reassessing their insurance needs because of economic uncertainty.
56% of consumers believe their agent is prepared to discuss economic uncertainty and 59% believe their agent has the resources to do this.
Though economic conversations aren't always easy, demonstrating your economic knowledge can boost client confidence. Nationwide offers regular economic updates from the office of our Chief Economist to help agents have informed conversations about the future of the economy with their clients.