Construction Industry Outlook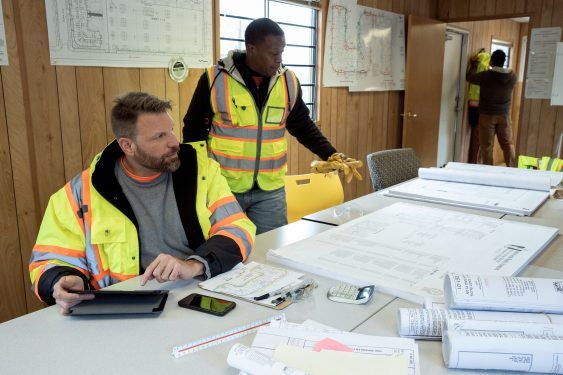 New construction trends and innovations emerge each year with the potential to change the way construction firms approach their operations. Because of this, it's crucial that construction-focused agents and their business owner clients educate themselves on factors affecting the industry.
Key construction industry trends to watch in 2023
Economic uncertainty in the construction industry
For the construction industry, there's a great deal of short- and long-term economic uncertainty, particularly as it relates to supply chain, inflation, and possible recession issues.
According to the U.S. Census Bureau, construction is among the sectors that have experienced the greatest supply-chain difficulties. Additionally, a recent survey by SAP, an international software company, revealed that supply-chain bottlenecks caused financial implications for business leaders since the onset of the pandemic:
58% of these leaders experienced decreased revenue
54% relied on business loans
50% struggled to pay their employees
61% had to enforce recruitment or wage freezes
50% had to downsize their workforce
41% increased their product or service prices to cope with these financial difficulties
Some economic experts believe supply-chain issues will continue into the summer of 2023 before eventually subsiding. According to the Associated General Contractors of America's 2023 Construction Outlook National Survey, 63% of respondents reported project delays due to availability/supply-chain issues as a top concern, particularly as they can lead to higher costs.1
Scarcity of the following materials also is projected in 2023:2
Copper: There may be a copper shortage looming in 2023, which will inevitably cause a price increase.
Mechanical and electrical products: Due to increased demand in 2020 for generators, switch gears, and electrical components, lead times for these materials increased. Despite expanded production, the timing is still several months or longer, and these challenges are expected to continue in 2023.
Contractors have adopted the following processes in hopes of protecting against future supply-chain delays:3
Looking for permanent regional suppliers for their material needs, as 30% of U.S. building materials were sourced from China in 2022
Maintaining larger inventories of materials
Inflation – Apart from supply-chain struggles and subsequent project delays elevating construction costs, ongoing inflation issues are also responsible for increased building expenses and valuations. These issues have been brought on by a combination of:
Fluctuating demand for various building materials
Wage increases across the construction sector aimed at attracting and retaining skilled workers
0verall worsening economic conditions as the nation faces the possibility of a recession
Altogether, rising material and labor expenses contributed to a 14.1% increase in overall construction costs by the end of 2022, according to real estate company Coldwell Banker Richard Ellis (CBRE). This is the largest increase CBRE has recorded since it began conducting inflation calculations in 2007.
For material costs in particular, the cost of gypsum has jumped by 20%, while the prices of exterior paint, steel products and softwood lumber rose by at least 10%. From 2022 to 2023, pricing for asphalt (+14.8%), limestone (+5%), concrete (+8.9%), cement (+9.4%), and brick (+24.4%) are also expected to experience an increase.4 In addition, NAHB research shows that construction workers' average hourly earnings increased by 12% between 2019 and 2021 and an additional 5% during 2022.
As inflation issues press on in 2023, it's important to review insurance policy details, such as ensuring property valuations and coverage limits are up to date. Updating these details can help reduce the likelihood of large out-of-pocket expenses for business owners if a loss occurs.
Labor challenges
The construction industry is facing challenges related to a labor shortage, an aging workforce, and mental-health issues.
There is currently a shortage of 650,000 workers, according to the Associated Builders and Contractors. A recent study by management consulting company FMI Corporation found that labor scarcity is the top challenge (89%) facing the industry. According to the 2023 Construction Outlook National Survey, 80% of contractors are having difficulty finding workers and expect this issue to persist.
Aging workforce – According to the 2022 Labor Force Statistics from the Current Population Survey from the U.S. Bureau of Labor and Statistics, the median age of construction workers is 42.4, with most of the labor force being from the ages of 35 to 44.
The U.S. Bureau of Labor Statistics reported that 1 in 5 construction workers are aged 55 or older. As more construction workers are approaching retirement age, this is leading to a rise in job openings.
To cater to the younger generation, experts recommend increasing outreach efforts, providing unique benefits (e.g., more time off, higher pay, bonuses), and offering safety training and entry-level jobs.5
Many experts anticipate that the labor shortage will continue. As a result, businesses may see project delays and increased costs. In some cases, construction firms may have to turn down project opportunities simply because they don't have the required skilled labor and management to protect their work quality while maintaining tight time schedules.6
It's worth noting that a diverse workforce in construction can alleviate labor shortages and drive company growth. In general, diversified companies are more likely to experience financial gains, and diverse workforces have higher retention, innovation and productivity levels. To help in recruitment efforts, construction contractors should expand outreach to underrepresented groups, including women and military veterans.7
Mental health – Substance abuse to deal with stress or physical pain is another challenge for the construction industry. According to the American Addiction Centers, 15% of construction workers in the United States have a substance-abuse disorder—almost double the general population, which is 8%.8 The construction industry has also been affected by the opioid epidemic with 1.3% of construction workers having opioid-use disorder.
According to Nationwide's recent Agency Forward research, mental health and drug use are top-of-mind concerns for construction businesses. Approximately 31% of respondents indicated they had to contend with mental health-related issues at their workplace. As it relates to drug use, 26% of businesses reported navigating opioid addiction concerns among employees.
Construction technology
Each year, emerging technologies impact the construction industry more than ever before. Not to mention technology in the global construction industry has a projected growth of $8 trillion by 2030.9
Virtual and augmented reality – This technology might be on the rise in video games, but it also is rising in popularity in the construction industry. Virtual and augmented reality technology has also been used in remote site inspections and enables improved safety, reduced costs, and increased collaboration among architecture, engineering, and construction staff.
Building Information Modeling (BIM) for precise digital models – BIM is another innovative technology that is on the rise in 2023. This technology "allows for the creation of one or more precise digital models of buildings," according to IntellectSoft.
BIM provides construction cost estimates ahead of the start of the construction process, improves communications across teams with the latest plans and workflow, and produces higher-quality results as the process uses multiple visualization tools. 10
Strengthening building codes can make properties more resilient
Over the past 20 years, the pace of billion-dollar disasters stemming from weather events has increased. 11 This underscores the need for buildings that are able to better withstand severe weather events and other potential risks.
An analysis by the Federal Emergency Management Agency showed that since 2000, buildings constructed under stronger building codes have saved $1.6 billion by sustaining less damage in disasters than structures built under previous codes. Adhering to stronger building codes can be more cost-effective in the long run. FEMA projects that more than 9 million structures built with stronger codes will be added to the U.S. inventory by 2040, saving possibly $132 billion in losses avoided.11
Furthermore, buildings constructed in jurisdictions without adoption and enforcement of current building codes may require more frequent repairs, leading to increased maintenance costs.
Nationwide is proud to partner with the Insurance Institute for Business & Home Safety (IBHS) in its efforts to promote stronger building codes across the country, with the goal of creating safer and more resilient communities.
Taking action
For more information about the construction industry and maintaining a safe environment, you can visit the Construction page of MyLossControlServices.com.