Benefits of SEO for Insurance Agents During the Pandemic
As the results from our May independent agent survey highlight, the economic uncertainty and market unpredictability of 2020 has prompted many to reevaluate their insurance needs. One tool they're likely using to help them reevaluate those needs? Search engines like Google and Yahoo.
Fortunately, there are things you can do to increase the likelihood that potential clients will find your website. Amongst insurance marketing ideas is a process called search engine optimization (SEO) and it can have a big impact on the business of your agency.
As our latest survey results point out, 55% of agents reported struggling with adopting new industry technologies, so if the idea of maximizing your agency website for search traffic seems daunting, you're not alone. That's why Nationwide created a whitepaper full of SEO tips designed to make it easier for potential clients to find your business, regardless of your tech skillset.
Why SEO matters to agents
As the way we do business continues to evolve, search engines have become the primary way people find what they're looking for online.
Some quick stats:
More than 93% of online experiences begin with a search engine1
Search engine users are most likely to click on the top five results on the page2
70 to 80% of people ignore paid search results, choosing to only click on organic (unpaid) listings3
Rank in search results
Keyword research plays a big part in SEO. Keywords are the words and phrases your potential customers use as search terms to find results in search engine. A search engine's algorithm then determines where your websites and social channels rank when these keywords are used. When it comes to your optimizing your content, you'll want to research the top keywords for insurance agencies and ensure you include them.
The tricky part is that a lot of other agencies are probably competing for the same keywords. For example, take a look at the keywords below and the number of webpages competing for the term.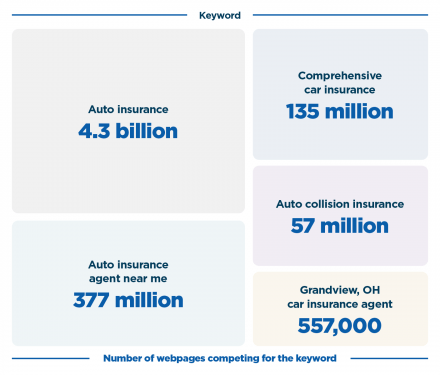 If these numbers seem intimidating, remember that you don't have to go it alone. Nationwide has tools and resources to help you ramp up your local search presence.
Local search opportunity
You would want your agency to appear in search results based on the location of people near your business, that's where local search optimization can help. Our latest whitepaper focuses on optimizing for local search and includes a three-part SEO checklist you can use to help you implement your plan. The checklist will guide you from before launch (as you optimize for search engines) to launch point (where you'll begin tracking data) to post launch (when you'll focus on maintenance moving forward).
A simplified version of the checklist is below.
SEO checklist
Before launch: Optimize your site for search engines
Add a site title
Add your location
Add SEO and site descriptions
Create a custom 404 page
Review your content
At launch: Keep track of search data
Verify your site with Google Search Console and Bing Webmaster Tools
Have Google index your site
Connect to Google Analytics
After launch: Maintain search-engine-friendly content
Use your site's analytics tools
Make updates strategically
Redirect changed or broken links
Committed to protection
At the end of the day, focusing on SEO can help potential customers find you as they look for the best way to protect their future amidst these unprecedented times.
So, while your brick and mortar location may not be bustling, keep in mind that for many, the search has moved online. The protection your business provides clients is just as important and relevant as ever: Finding the right insurance solution is one less thing for them to worry about in a time where there's more than enough worry to go around.
Sources
1

"SEO Statistics in 2020 That Marketers Should Know," serpwatch.io/blog/seo-statistics (July 15, 2020).

2

"Why You Need to Raise Organic CTR's (And How to Do It)," wordstream.com/blog/ws/2016/05/10/google-ctr (July 15, 2020).

3

"8 SEO stats that are hard to ignore," imforza.com/blog/8-seo-stats-that-are-hard-to-ignore (July 15, 2020).