Webinar series: Navigating the agency technology landscape
We've partnered with Jason Walker from Agency Insurtech to provide you best practices for implementing an effective technology strategy and share more about existing and emerging technology that can support your agency with marketing, sales, servicing and renewal. Join us for this webinar series aimed at helping you navigate the agency technology landscape.
How to implement an effective technology strategy
You're ready to enhance technology at your agency to create additional efficient experiences for your clients and staff. Where do you begin? Walk through a step-by-step process for developing an agency technology strategy, identifying and selecting solutions and holding your partners accountable.
For additional information, read these articles from Agency Forward®:
Technology for Marketing & Sales
With a technology strategy in hand, your first pursuit is to enhance agency growth. Achieving efficiency through automation is critical to scaling your business. This webinar will uncover ways to eliminate redundant activities and dive into solutions that support your marketing, prospecting and sales pursuits.
For additional information, read these articles from Agency Forward®:
Technology for Servicing Customers
Retention is your claim to fame; however, the time commitment and manual labor involved in communicating and educating your clients quickly adds up. This webinar will review technologies that provide a better approach to servicing your clients and reward you with time to invest in meaningful interactions.
For additional information, read these articles from Agency Forward®:
Technology for Renewal
You have successfully marketed, sold and serviced your clients, and now it's time to renew and even upsell your book of business. There are solutions that help expedite renewal processes using automation. Let's explore technology and data that help your agency maintain and grow its book.
For additional information, read this article from Agency Forward:
About Jason Walker, Founder and CEO of Agency Insurtech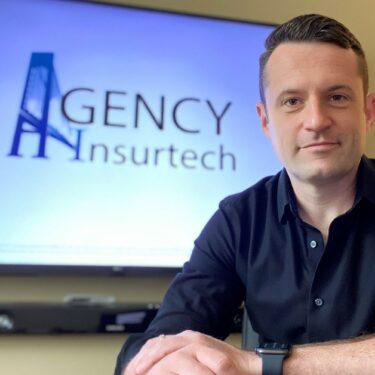 Jason leads Agency Insurtech, a consulting firm that connects insurance professionals with technology companies to balance emotional and artificial intelligence for a better consumer experience.
Prior to Agency Insurtech, Jason spent more than a decade building digital marketing and technology firms in the insurance and financial services arena before selling his most recent venture, Smart Harbor, to Insurance Technologies Corporation (ITC)—an Accel-KKR Private Equity company.
A recipient of the Smart 50 Award for Innovation, Impact and Sustainability, Jason has conducted speaking engagements and workshops for InsureTech Connect, Nationwide, State Auto, Keystone, Pinnacol Assurance, BroadStreet Partners, Agency Nation Elevate, the Big I, and the Ohio Insurance Association. He is also published in Insurance Journal, Property Casualty 360, IA Magazine, Rough Notes, Insurance Thought Leadership, The Meeting Magazines, Carrier Management, and Insurance Business America and has been featured on the Westfield Insurance Closing the Gap, Agency Nation Radio, and Insurance Marketing Brain Dump podcasts.
For more on digital transformation, explore these Agency Forward topics:
---
Citations/Disclaimers
The information included in this article and webinars was obtained from sources believed to be reliable, including subject matter experts, to help users address their own risk management and insurance needs. It does not and is not intended to provide legal advice. Nationwide, its affiliates and employees do not guarantee improved results based upon the information contained herein and assume no liability in connection with the information or the provided suggestions. The recommendations provided are general in nature; unique circumstances may not warrant or require implementation of some or all of the suggestions. Nationwide, Nationwide is on your side, and the Nationwide N and Eagle are service marks of Nationwide Mutual Insurance Company. ©2022 Nationwide.