7 Marketing Tips for Insurance Agents During the Pandemic
Agencies have made major adjustments to how they're conducting their day-to-day operations due to COVID-19. Consumer behavior has shifted, and the way agencies respond is key to their future success.
The insurance industry is well-positioned to cope with the effects of the pandemic. Insurance companies and agencies are ready to be there for their customers when protection is needed most. But as an industry, we're facing many challenges, especially when the economy reopens. Traditional ways of marketing and selling won't work in the near-term, and maybe even in the long-term as some new behaviors are likely to stick beyond the pandemic. People will avoid coming into the office or letting producers into their homes. They may limit meetups at coffee shops and restaurants, and are likely to avoid the in-person events that many agencies have used in the past to reach new customers. Digital and virtual tools can help agents succeed in this environment.
1. Build a pipeline of potential sales through digital marketing
Events are going to continue to have fewer attendees than ever and will be held with more social distancing requirements. Large direct insurers are investing massive sums of money into finding customers during their online research phase. Agencies have an advantage in selecting specific geographies, and can use affordable digital marketing techniques to ensure these customers make their way into agencies that can meet a wider range of their needs.
2. Revisit your digital marketing strategies
Rethink your marketing plans for 2020 and shift away from low-impact activities to cost-effective investments for digitally attracting new customers. For each part of your plan, align your marketing tactics to the goal you are trying to accomplish:
Website: Is your website optimized to have local consumers and businesses find you online?
Facebook and LinkedIn: Are you putting out a steady stream of relevant content through social media?
Email marketing: Are you using email to reinforce connections with your existing customer base to increase the likelihood they will not shop around with competitors?
Effectiveness of various marketing platforms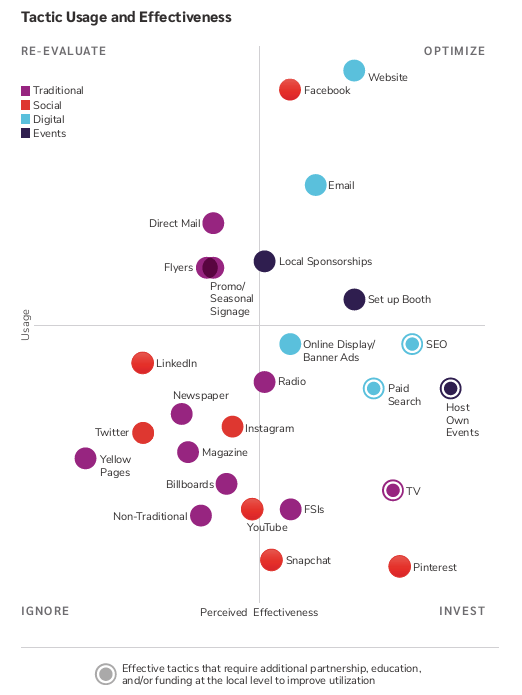 The platforms that fall into the Ignore quadrant and rank on the low range for Effectiveness and Invest should not be viewed as a total loss. Each of these social platforms has an application that provides value to a particular audience. LinkedIn provides significant value for agents when prospecting for clients and maintaining relationships, and this is why Nationwide offers many trainings and resources to help our partners understand the platform and its capabilities.
Source: "The State of Local Marketing Report," Brandmuscle (2019).
3. Make your website easy to find online
Review your website to ensure people can find it via search engines such as Google. When they get there, they can be easily led into a virtual selling path that leads to a new customer for you. Additionally, filling out more Google My Business fields yields a significant impact, even before customers reach your site.
When there are more than 30 fields completed in Google My Business, it leads to a 25% increase in searches and a 37% increase in views.²
4. Revisit your social media content strategy
Social media content fuels the marketing engine. By consistently delivering social media posts that are relevant to your customers and referral sources, as well as unique to your local community, an agent can demonstrate dependability and expertise. Your audience will grow to rely on and appreciate the insights you post.
Here are some social media marketing ideas you can implement:
Post content regularly: Establish a consistent cadence in your email marketing, social posting, and blog content to increase your touchpoints with clients and become a thought leader.
Use Facebook and LinkedIn: Make sure your organization has a LinkedIn page pointed at business clients and a Facebook page pointed at personal lines clients.
Engage with your connections: Actively engage with your community; those who are fully engaged by claiming their page, posting regularly, and advertising find it twice as effective as those who only claim their page or post regularly.
5. Personalize your communication
Making virtual communications more personal is where insurance agents have a chance to stand out. Think about this:
More than a third of consumers prefer personalized messages³
Between 40% and 50% of consumers think that the personalized messages they're receiving are not good enough³
The risk associated with poor personalization is high, with more than 40% of U.S. consumers having dumped a company because of "poor personalization and lack of trust"⁴
Only those who understand how to build personal relationships virtually — leveraging tools such as advanced social media techniques, virtual appointment-setting, masterful use of video conferencing, and a consultative approach to fear-driven customers — will win.
6. Streamline your approach to quoting and self-service
To become a digital powerhouse, agencies must find new ways to digitize, thereby saving time and resources. This means you need to have quoting and binding capabilities available on your website, as well as the internal resources to quickly turn quotes around and get them to customers instantly.
7. Nurture relationships with current customers
Recent research shows that 68% of consumers are motivated to be loyal if they know that a brand shares their values. Take this opportunity to prove to your existing customers that you align with their beliefs in order to form a strong community of customers with a sense of belonging.⁶
Customers who aren't contacted at this critical time — with the expectation that they should be — are almost twice as likely to switch carriers.7 With a mix of virtual and digital touchpoints, you can make sure they know you are on their side during this time.
Talk to your Sales Manager to learn how to leverage digital marketing and Nationwide tools to help grow your business. Nationwide agents can access Nationwide Marketing Central for marketing materials and resources.
Additional resources
ITC: COVID-19 Resources for Insurance Agents

Agency Revolution | Nationwide: Resources

Nationwide Business Solutions Center:

Keep your small business running smoothly – from a distance

Cyberattacks are on the rise

Relief is now available for small businesses impacted by COVID-19

¹ "State of Local Marketing Report," BrandMuscle (2019).

² "Helping Your Business Through COVID-19," BrandMuscle (March 26, 2020).

³ "Digital Advertising Report 2017," www.slideshare.net/adobe/digital-advertising-report-2017 (March 13, 2017).

⁴ "U.S. Consumers Turn Off Personal Data Tap as Companies Struggle to Deliver the Experiences They Crave,

Accenture Study Finds," newsroom.accenture.com/news/us-consumers-turn-off-personal-data-tap-ascompanies-struggle-to-deliver-the-experiences-they-crave-accenture-study-finds.htm (Dec. 5, 2017).

⁵ "Adapting customer experience in the time of coronavirus," McKinsey (April 2020).

⁶ "Loyalty: Up close and personal," LoyaltyLion (accessed April 30, 2020).

⁷ "Financial Services COVID-19 Pulse Survey," J.D. Power (April 2020).

8 https://www.agencyrevolution.com/blog/2020/04/14/leverage-automation-to-optimize-operations/
NPO-1058AO.1 (05/20)