Social media marketing tips for insurance agents
Whether it's keeping up with friends, staying on top of news or learning something new, most U.S. adults interact with social media platforms for more than 3 hours per day.1 That makes social media a valuable digital marketing tool for independent insurance agencies to build engagement and win trust with customers and prospective buyers. Whether you're just getting started on using social media for social selling or looking to get results from your efforts, the following tips are designed to help you understand the platforms and how to use them to your advantage.
Overview of social media platforms
While all social media tools used for business are designed to build engagement through free (organic) and paid advertising, each platform's focus, features and audience is unique.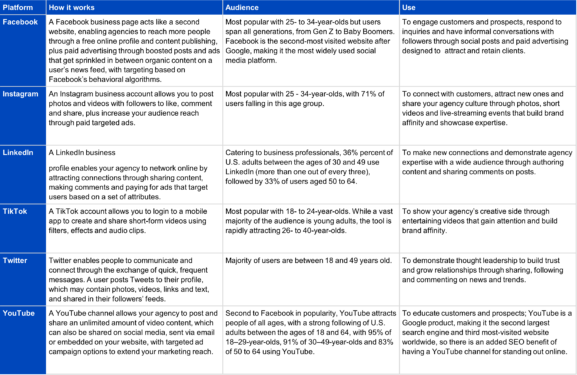 How to get started on social media
The purpose of being on social media is to retain customers, grow your book of business and promote your brand. Supporting social media platforms that generate tangible results starts with a social media content strategy.
Define your target audience. Align your target audience(s) with your agency's retention and growth goals.
Choose the best platform(s) that support your target audience. For example, if you are targeting an older demographic to grow your personal lines book, focus your social efforts on Facebook. If it's networking to write more E&O for engineering firms, LinkedIn and Twitter will build awareness of your agency's niche and expertise. Keep in mind, you don't have to blanket all of the platforms, focusing rather on those that make the best sense and how much time staff has to actively manage them.
Set up a compelling profile. Profiles for your chosen platforms are an extension of your brand and the goal is to stand out. Take time and care in setting up your agency's social media accounts, choosing keywords to stand out in search and high quality images and visual media to make a lasting impression. For assistance in setting up and optimizing your profiles, each of the platforms offers help resources to assist you.
Share content on a consistent basis. With many people visiting social sites daily, maintaining a consistent posting schedule helps you stay in front of current and potential clients. When you post, comment and share on a regular schedule, your followers are more likely to look forward to seeing and interacting with your posts in their social media feeds, which leads to increased engagement. For posting frequency, consider the following posting targets:3

Facebook: 1 post daily
LinkedIn: 3 posts or comments weekly
Twitter: 1 to 5 tweets or retweets daily
Instagram: 3 to 7 posts weekly
TikTok: 3 to 5 posts weekly

Build your audience. Invite others to follow your agency accounts by using a tool's search or "People You May Know" feature to connect with customers or prospective customers, plus invite staff to follow your social accounts, too. Also consider using paid advertising to extend your audience visibility. Remember, building relationships on social media takes time. Creating authentic content and being patient is the best way to grow your social accounts, so don't be tempted to buy contacts from a list to grow your following. There is no guarantee the accounts will be quality contacts or have an interest in engaging with your brand.
Measure your engagement over time and continually refine. Monitoring how many likes, clicks, comments, shares and impressions relative to reach (or followers or audience size) will help you understand if your posts are engaging your audience and tweaking your content based on impressions, as needed.
Adopt a security mindset. To protect your agency brand, a good social media strategy accounts for common threats, such as account hacks, compliance violations, etc.
For additional insight, get six more tips for boosting your social media presence.
Create quality content
When it comes to posting on social media platforms, the goal is to create content that's interesting and helpful enough that people want to read it and share it with others, which also means taking a less salesy approach. Quality content focuses on simplifying insurance, dispelling myths and being transparent in a way that creates conversation, which leads to engagement and trust.
Focus on what you know. Regardless of the types of accounts you write, what all insureds basically want to know is how to manage risk. To create quality content, focus on what you know: sharing your agency culture, expertise and highlighting the benefits of a product or service.
Listen to what people are talking about. To better understand what insureds want and need, listen to what people are asking or talking about on social channels. Have your agency staff join social groups on a personal level to listen in, then build out content topics related to your niche that resonate with what your customers need and want and how you help solve these issues. For example, content that offers homeowners and small businesses information for dealing with a car accident, a neighbor's dead tree, an aggressive dog or reducing security risks are useful. Useful content is shareable content, further expanding your brand's visibility.
Be personable. People do business with companies that reflect their values. Creating content that involves your employees as well as members of the community makes your brand personally relatable and drives engagement. Sharing stories of how your agency is showing up in the community through volunteering, events or supporting local businesses and creating videos of agency employees sharing about working in the industry and their interests is a great way to be personable.
Be professional. Above all, it's important to be professional in your posts and comments, and avoid weighing in on controversial topics and trends that could be a detriment to your agency's reputation.
Be aware of social media trends
Looking ahead, it's useful to stay up on social media trends so you can anticipate a changing landscape and adapt, as needed. Four noteworthy trends on the social media horizon include the following:
Consumer expectations for content are high. Experts predict TikTok will dominate social media. That's important because, while the tool has low adoption with marketers today, it's changing the formula for posting by focusing on content that's humorous, irreverent and snackable. This trend is having an impact on content expectations across the board. The pressure to think like an entertainment company couldn't be more relevant as it relates to offering a quality content experience that yields high consumer engagement, making features like livestream more relevant.
Customer shopping journeys are simplifying. Social media platforms are providing new social selling opportunities with shopping features that make it easier for users to purchase items without ever leaving the app.
Social ads are evolving. As Google Chrome will start blocking third-party website cookies next year, (used for tracking and ad algorithms), how data is collected and used for targeting consumers on social media ads will have to adapt.
Online communities will continue to evolve. As social issues swelled and people felt isolated during the pandemic, social media users have come to value participating in and being seen as a member of a community. People can't hangout on TikTok or Instagram, so the social media platforms that offer communities will continue to be crucial to cultivating relationships.
Get started
The keys to social media success are posting quality content consistently, engaging with your followers and using industry data and resources to your advantage. ​​To strengthen your agency's social selling success, Nationwide offers what you need to help you use social platforms to your advantage. For the past 10 years, our Social Media Solutions program has empowered and encouraged appointed agents to use social selling to grow their businesses. You can get started, too, by emailing social@nationwide.com.4