Renewed call for universal distracted driving laws
In a world where an average of 4.8 hours of a person's a day is spent looking at a mobile device that is carried everywhere, the risk of drivers being distracted by hand-held devices behind the wheel has emerged as an issue of overwhelming public importance.
Here is why, the early estimates according to the National Highway Traffic Safety Administration, nearly 43,000 people were killed on our roadways reaching a 16-year high. Many of these crashes are caused by people who are distracted by a mobile device in their hand.
Addiction to phones causing motorists to drive blind is rampant. That is why, Nationwide continues to lead the charge in fighting distracted driving through the adoption of telematics and advocacy for stronger "hands-free" laws in all 50 states. Nationwide has collected billions of driver miles through its telematics program over the past decade; it's shown that distracted driving is a much more pervasive problem than even the statistics show. A recent analysis of all that data revealed that drivers are distracted by their phones an average of nine times during a typical 20-mile commute.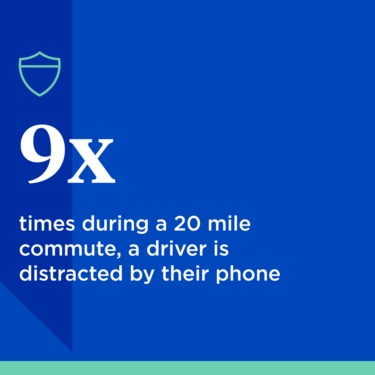 Introduced in September 2020, Nationwide's SmartRide mobile app provides phone usage feedback to customers participating in the program. As a result, Nationwide has seen a nearly 10% reduction in phone distraction among customers who have the SmartRide app and were made aware of their phone usage while driving. However, more needs to be done to address this issue.
Laws have the ability to save lives. Nationwide is renewing its call for all 50 states to enact hands-free primary enforcement laws so that driving distracted is no-longer a socially accepted norm. Making hand-held device usage while driving a primary offense is proven to work. A 2018 analysis showed that states that enacted this type of legislation experienced a 15% decrease in auto crash-related fatalities two years after enactment. Six states in that same analysis saw a decrease of more than 20% in fatality rates. Combined with heightened public awareness and the development and adoption of technologies like SmartRide, these commonsense laws will significantly improve the safety of roadways.
Hands-Free Legislation
Primary enforcement laws enable police to pull over and ticket drivers using hand-held devices behind the wheel. Over the years, as cellphone use became ubiquitous, such laws have gained widespread public support. Today, 24 states and the District of Columbia have similar laws on the books; there is active legislation pending in 21 other states.
According to a Nationwide Agency Forward survey, 88% of consumers support legislation to address distracted driving; 86% support legislation in their state that would prohibit drivers from holding their phones while driving to talk or text or for other purposes except in emergency situations.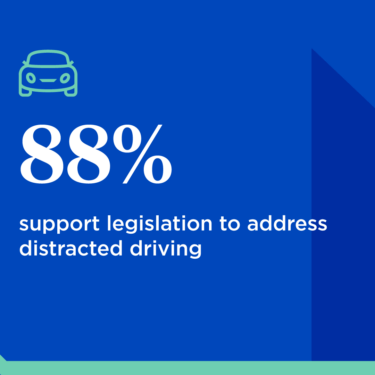 In fact, the survey found that most drivers think their state already has enacted some form of hands-free legislation; 64% believe there are existing laws prohibiting distracted driving in their state, and 61% rely on hands-free technology while behind the wheel.
Last year, following a charge from CEO Kirt Walker, Nationwide spearheaded efforts at the National Conference of Insurance Legislators (NCOIL) to adopt a national model distracted driving law. Since then, Nationwide has been utilizing that model as a template in the 26 states that have yet to pass a hands-free law, including Ohio, where Nationwide has been leading efforts.
Collective action
SmartRide is a mobile application that tracks drivers' habits on the road. It also provides safe driving discounts on auto insurance and personalized experiences that help enhance roadway safety.
Insurance agents can help spread the word about the dangers of distracted driving on social media, through client emails or by speaking about it at local community events. Even simple pieces of advice can have an impact. For example, parents can be advised not to call or text their teens when these youths are behind the wheel, as they might feel compelled to respond.
Agents are also urged to speak with their members about the dangers of distracted driving, as motorist safety has become an increasing public concern. Between the summers of 2019 and 2021, per capita vehicle deaths rose a devastating 17.5%, despite there being fewer drivers on the road because of the COVID-19 pandemic.
And the public has taken notice. Our survey data found that driving is seen as considerably more dangerous today than it was before the pandemic: 81% of respondents said drivers today are more aggressive; 79% said motorists drive faster; 76% said drivers are more reckless; and 52% said driving is a more stressful experience for them.
To help relieve these concerns, the public can educate themselves about hands-free legislation in their respective states and uphold distracted driving prevention measures behind the wheel, thus keeping themselves and others safe on the road.
Sources
Survey Methodology: Edelman Data & Intelligence conducted a national online survey of 1,000 adults (ages 18+) US car-owning consumers on behalf of Nationwide. The study was fielded from March 4 to March 11, 2022 and has an overall margin of error of ±3% at the 95% confidence level.