Laramie Sandquist
Associate Vice President of Risk Management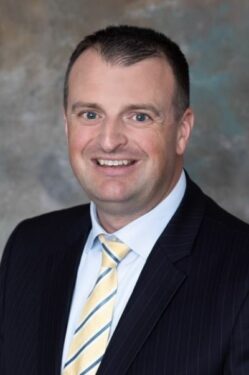 Laramie joined Nationwide in 2019 as Sales Director on the commercial agriculture and farm sales team after 20 years in the industry.  He was responsible for sales and distribution for the south and west regions, leading a team of sales managers from the Southeast to the Pacific NW. In 2021, he was named Ag Sales Director of the Year.
In 2022, Laramie was named AVP, Risk Management leading a team of Risk Management Consultants, Property Engineers, Occupational Safety and Health experts, Account Managers and Casualty Specialists.  This diverse group of professionals identify key operational loss drivers, business interrupters, and provide professional consultation on specific actions to prevent future incidents.
Laramie stresses that if we focus on a people first approach through strong training, development and continuing education, we can impact results.  Zero Lives Lost is the lofty challenge for the risk management team and a challenge they embrace and exhibit in every interaction they make.