Fire risk reduced during design, construction phase of ag buildings
Fire causes more than $100 million in agricultural losses every year.1 Mitigating risk that fire poses to your customers requires planning and taking the right steps to prevent massive damage and even loss of life.
Minimize ag building fire risk with thoughtful design and construction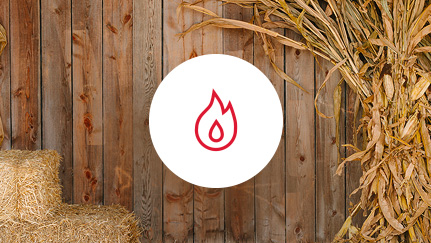 During the design and construction phases of any new agricultural building consider what will be stored in the structure. Highly combustible materials – chemicals, fertilizer, fuel and oil – stored on farms and agribusinesses require specialized storing and should be in area away from tools and machinery. Customers should manage concentration of values by designing and implementing storage practices to space out valuable assets so in the event of a fire, losses are minimized. For example, put house equipment and machinery in a building with fire separation features like firewalls.
Keep a "clean house" to trim fire risk
Keep the most fire-prone materials and assets like fuel and machinery clean and orderly by doing the following:
Discard empty containers and other waste quickly and safely.
Keep workspaces clean and free of clutter. Clutter can fuel a fire.
Ensure all electrical devices and distribution systems are appropriate for the environment in which they'll be working. For example, in livestock buildings and facilities, keeping electrical wiring and components contained in moisture-tight boxes and conduits can prevent moisture from creating conditions that can lead to fire.
New technology advances fire prevention
In addition to conventional tools like smoke and heat detectors, new technology can help mitigate fire risk. Thermal imaging systems like those from Teledyne FLIR can help identify elevated temperatures in machinery components, potentially signaling fire risks. Electrical monitoring systems from PrevTech can aid in identifying electrical faults, unusual readings, overheating in electrical panels and potential equipment failures. Nationwide has partnered with both Teledyne and PrevTech to bring this new risk mitigating technology to our members.