How to Market Your Agency Website
Think of your website as your digital storefront
Keep in mind that your website is now likely to be the first introduction a client gets to your business, so it's important that it be an authentic and meaningful representation of you and your agency. You might want to share your mission and core values upfront, but also consider sharing:
Why you're in this business
How your sales and support team uphold your mission
How you meet client needs
Ways you're involved in the community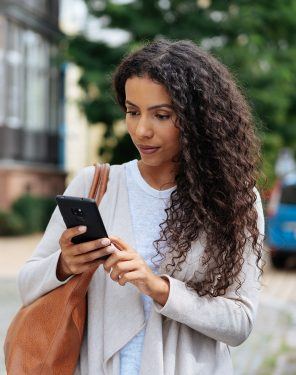 Help website users understand how your capabilities and experience benefit them
For example, instead of just saying your agency has been in business for 25 years, you could ask a few of your best clients to provide a testimonial of how your agency has gone above and beyond for them, especially after a claims event.
Make your website mobile-friendly
It's vital that your website be easy to use — especially for people viewing it on their mobile devices. Websites that aren't mobile-friendly can be almost impossible for clients to navigate. The text can be too small to be read easily, and users can have difficulty zooming in to tap on menu options. You want your website optimized for mobile so that images, text and menu options are all sized correctly to be viewed on mobile devices. Even more reasons to make your website mobile-friendly1:

Make it easy for clients to find your website
Search engines such as Google have become the primary way that people find what they're looking for online.
Two interesting insights:
Users are most likely to click on the top 5 results on the search engine results page2

70 to 80% of people ignore paid search results, choosing to click only on organic (unpaid) listings3
People are more likely to find your website if it's optimized for search engines
It's key to understand what people are searching for online, the words they're using and the type of information they hope to find. Knowing these details will allow you to connect to prospects who are searching online for the solutions you offer.
You also want your agency to appear in search results based on the location of people near your business. In order to do this, it's important to keep your agency's listing data, such as your phone number and address, updated across all of your directories. The more information provided on an agency's page, the more likely their page will appear in search results.
To learn more about search engine optimization, view our guide to help your agency appear in more local searches.
Make your website accessible to everyone
Your website should be accessible to people with diverse abilities so you can reach the broadest array of prospects possible and meet regulatory and legal requirements. Learn more about making your site accessible.
Consider adding engaging videos
Did you know that videos have persuaded 84% of consumers to buy a product or service?4 Because creating a video can be as easy as filming a short scene on your phone, it makes sense to try your hand at one or two. Keep your videos simple and engaging and include a call to action at the end that encourages viewers to do what you want them to do: contact you for more information. You could also ask current clients to record testimonial videos, sharing their positive experiences with your agency.
What if I don't have a website for my agency?
You can find a variety of website-building tools online that walk you through the process of creating one. CNET rates Wix as the best overall website builder.5 Weebly is also recommended for building websites that are easy to navigate and simple to update. Once your website is up and running, make sure to keep it working perfectly and to update it regularly.
We can help you navigate every challenge
While innovations in the industry and changing client expectations can seem overwhelming at times, they're also excellent opportunities for growth. And Nationwide is always here to support you with insights and expertise to help you meet today's new challenges with confidence.
From web strategies to ad templates, you'll find a vast range of marketing resources to help boost your agency's growth and increase client confidence. Our marketing materials put your agency's brand first while building on the strength and stability of the Nationwide brand.
View the full guide to digital marketing in an uncertain world to learn how to connect with clients and grow sales in this new environment.