4 Ways Agents Can Help Small Business Owners Amid the Pandemic
Nationwide Agent Authority research shows top challenges and needs from small business owners
Small business owners want a personal touch from their agents, help understanding their policy and economic guidance
Survey shows opportunities for independent agents to strengthen and grow relationships
Small business owners have been hammered by the economic fallout from COVID-19, and many will turn to their independent agent for guidance on navigating the future. Our latest Agent Authority research1 found that small business owners want tailored and frequent insurance advice as they endure the current economic crisis. While they value a local agent's expertise for their protection needs, many small business owners said they could use more support in understanding their policies and ensuring they have the right coverage for their needs.
According to the survey, more than half of independent agents (57%) said that their clients are too concerned about their business surviving the coronavirus pandemic to talk to their agent about insurance needs. However, 6 in 10 small business owners disagreed; they want to hear from their agent.
You can win over other insurance agents by making sure your clients feel your presence, even virtually, by identifying new ways to strengthen relationships, solve problems and offer peace of mind to clients whose expectations for expertise are on the rise.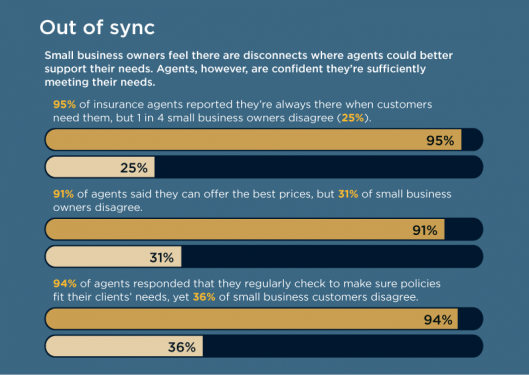 1. Take the personal experience to a new level
Take time to listen to your customers' unique issues right now. As you check-in, consider what resources you and your carriers can bring to add extra value during these trying times for businesses. For example, Nationwide's My Loss Control Services provides a variety of resources and solutions that can help businesses with challenges they may be facing.
Missed opportunities to connect with customers
Research revealed small business owners feel there may be more opportunities to help than some agents recognize.
95% of insurance agents reported they're always there when customers need them, but 1 in 4 small business owners disagree (25%).
91% of agents said they can offer the best prices, but 31% of small business owners disagree.
94% of agents responded that they regularly check to make sure policies fit their clients' needs, yet 36% of small business customers disagree.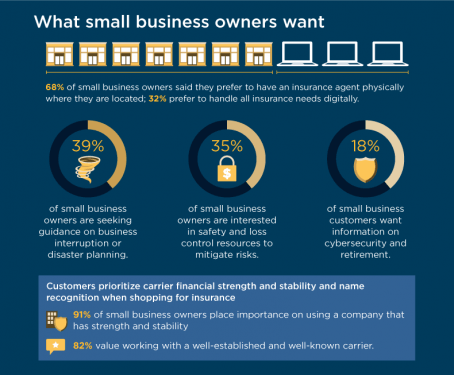 2. Help business owners assess new needs
As resource-limited business owners seek guidance on topics beyond traditional insurance, such as disaster planning, loss control, retirement and cybersecurity, show them you're there to help by sharing relevant resources designed to help small businesses succeed from Nationwide's Business Solutions Center. Additionally, because a carrier's financial strength and stability is important to business owners when buying or renewing a policy, working with a trusted brand like Nationwide can offer some peace of mind.
Clients' needs and expectations are changing
While small business customers and agents agree it's important for an insurance agent to be trustworthy and cost effective, the data shows a small business owner places more importance on having an agent who knows and understands their needs.
Nearly 7 in 10 small business owners prefer to work with an agent located physically near them highlighting the value a local agent brings; 32% prefer to handle all insurance needs digitally.
Business owners ranked "being able to talk live to a person when you have an important issue or question" as the fourth most important attribute when buying or renewing an insurance policy.

3. Take the time to explain the policy details to business owner clients
Take the time to reach out to your business clients, walk through key policy coverages and allow them to ask questions. You can also take this time to inquire about what new protection solutions they might need in todays' changing world.
Small business owners struggle with understanding policy specifics
Understanding what is and what is not covered in their policy (46%), finding the best price for their protection needs (44%) and understanding the level of coverage needed (43%) are small business owners' top insurance challenges.
4. Take the lead on economic conversations
Prepare yourself to add value in economic conversations with your clients by doing your research. Nationwide provides regular economic updates from the office of our Chief Economist to help agents have more informed conversations about the economy with customers through posts to this blog and monthly agent webinars.
Economic uncertainty
Six in 10 small business owners feel the economy will be the same or worse in the next 12 months and many are taking steps to reassess their insurance needs.
53% of small business owners are concerned about their business making it through the economic downturn.
82% of small business owners are taking measures to protect their business' assets.
54% have reassessed or will be reassessing their insurance needs because of the economic uncertainty.
Many small business owners are ready and willing to have these difficult conversations. However, 4 in 10 small business owners are not sure whether their agent is ready to discuss economic challenges.
Sources
1

These and other important insights came out of the summer survey of the Agent Authority research series conducted by Nationwide, which includes samples of independent insurance agents, small business and mid-market business owners, and consumers. Nationwide also recently shared Agent Authority survey data on the agent-customer relationship and agents' top concerns through the pandemic.