A guide to protecting your absentee landowner clients and their farmland assets
With nearly 40% of all farmland being rented, being able to navigate the world of rented farmland is critical. In addition to the already complex world of renting, renting from a non-operator landowner has its own unique set of considerations. Approximately 31% of all rented land is rented from a non-operator landowner. With such an asset comes inherent risks-many of which are not easily identified. Many non-operator landowners ask the simple question: am I covered?
While the question seems simple, the answer is not always straightforward. Because each piece of farmland is unique in its location, operational use or features, the best solution to protect it requires careful consideration of a variety of factors. Many landowners have questions about how to best protect their investment. That's where we come in.
Not all absentee landowners look alike
Non-operator landowners come in all shapes and sizes. While they own the land, a non-operating landowner is not actively involved in the farm or its operations. Of the nearly 911 million acres of farmland in the contiguous 48 states, about 353 million acres are rented. Absentee landlords own approximately 80% of those rented acres. About 45% of absentee owners have no prior experience with farming, although there may be some relationship with the land.1
According to the most recent survey conducted by the U.S. Economic Research Service, absentee landowners were more likely than operators to have inherited their farmland. These owners can take many shapes and sizes:
Retired farmers with no heirs.
A spouse who acquires land and moves off the farm.
Children or siblings who inherit the land.
Individuals or companies who purchase farmland as an investment.
With any asset comes risk, and rented farmland is no different
Owning farmland is a unique opportunity that not everyone gets to experience, but it comes with its own unique set of risks that may not be top-of-mind from clients with little farm experience. Considerations include:
Who maintains buildings or farmland features such as fences or road entryways?
Will there be recreational uses like hunting or trail riding allowed?
What practices will be used to farm the land?
What does the business ownership structure look like?
What are the long-term wishes of the landowner?
You can read more about the potential risks absentee owners face here.
Shaping solutions for protecting farmland
No two farmland policies will look alike, but there are steps to take to ensure your clients are properly protected.
Get to know your client's property. Know what is happening on the property from its operations to its unique features.
Look beyond a homeowners policy. Depending on the nature of the operation a farm endorsement may be sufficient, but other solutions likely offer better coverage.
Encourage the use of leases. Leases are key to managing risk for your clients. Read more about what absentee owners should know about renting farmland.
Consider long-term protection. The Nationwide Land As Your Legacy® program offers options to protect this valuable asset for the next generation.
Resources to help you guide your clients
Because there is not a one-size-fits-all solution, we provide resources to help you shape the best protection for your client. Get started by reading the Farmland Owner Protection Agency Guide. This guide is designed to help you understand the hidden risks involved in farmland ownership and advise your clients on ways to protect themselves and their asset.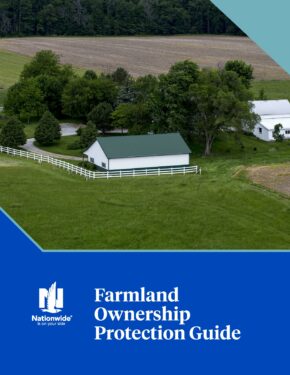 Request the Farmland Ownership Protection Guide
We also have resources for your clients on the Ag Insight Center such as:
Articles on leases, attractive nuisance, and questions to ask about their protection.
Videos on long-term planning options.
We want to help you understand the complexities of non-operator landownership so, in turn, you can advise your client on how to protect the land that has likely been a part of their family for generations.