Using data to reduce distracted driving
As a company committed to protecting people, businesses and futures with extraordinary care, Nationwide has a long history of supporting efforts to make our roads safer through heightened public awareness, development of technology to mitigate risks, targeted research, and advocacy for the enactment and enforcement of strong highway safety laws.
Nationwide has long been on the cutting edge of auto safety. In the 1950s and 1960s, we were a founding member of the Insurance Institute for Highway Safety (IIHS) and led the charge on advocacy for seat belt usage. In the 1990s, we pushed for updates to Federal Motor Vehicle Safety Standards that would mandate airbags in all new vehicles. More recently, we've partnered with MADD on their influential Power of Parents program to encourage parents to speak with their teens about the dangers of drinking and driving.
These efforts have saved countless lives. Yet, despite this progress, last year an estimated 38,680 people died on our nation's roadways. This represented an 7.2% increase over 2019 even though miles driven dropped by 13.2% percent because of the pandemic.1 So what's causing this uptick and what can we do to reverse it?
Safety advocates have long suspected that distracted driving as a contributing cause to auto accidents is severely underreported. But, for many years, the safety community has struggled to quantify the impact of distracted driving relying on correlative data like the below chart from our telematics partner, Cambridge Mobile Telematics (CMT), who is currently the largest mobile telematics provider in the industry.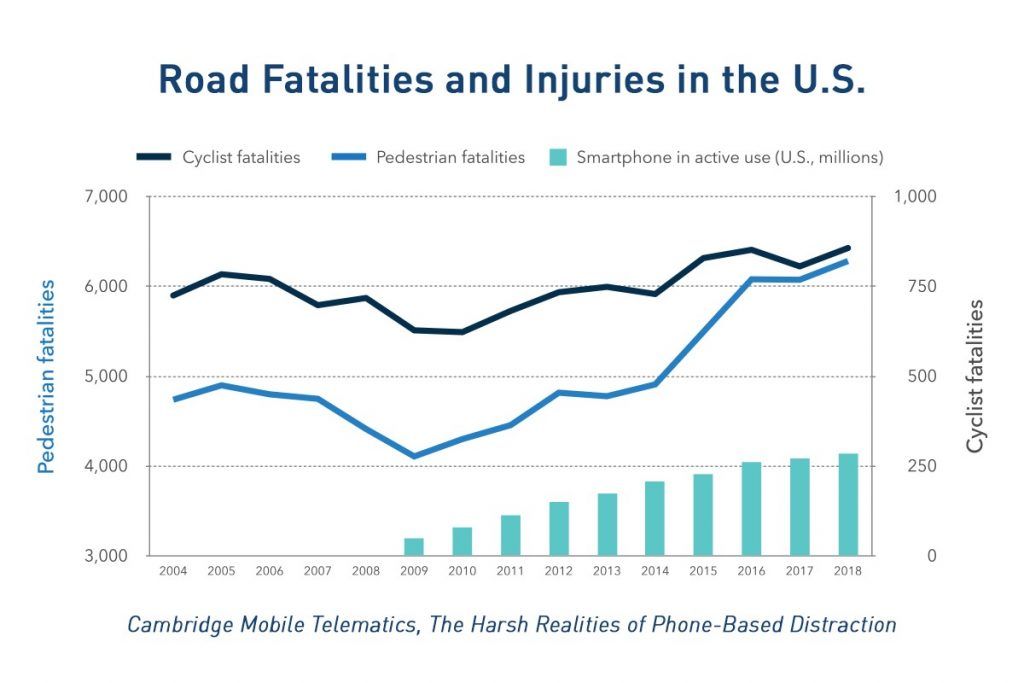 This analysis of road fatalities and injuries in the U.S. shows a direct correlation between the increase in owned smartphones and fatalities. The increased prevalence of smartphone technology has accompanied an increase in active distraction.
Going deeper with data
Through our partnership with CMT, we can now provide even deeper insight and actual data that underscores the dangers of using a hand-held device while operating a motor vehicle.
In September of 2020, Nationwide's SmartRide mobile app started showing drivers when and where they were driving while distracted by their phones. Through the capturing of this data, we now know the real story about distracted driving—and the distraction trends uncovered are alarming.
Our program found that drivers are taking their eyes off the road an average of 13 times a day, for six seconds at a time, driving at 45 miles per hour, travelling the distance of a football field. Six seconds is the average time spent tapping screens.
Through our data, we now know that most drivers are driving while distracted. Over 70 percent of SmartRide mobile drivers were distracted by their mobile device while driving at least once during the day. Forty-five percent of all trips contained at least one distraction. This data was collected while examining nearly 14 million trips covering 131 million miles driven.
Taking Action
We are taking a multipronged approach to combatting distracted driving. In addition to providing drivers tailored coaching and feedback through our SmartRide program, we are also advocating for the adoption of hands-free laws in all 50 states.
In February 2020, our CEO, Kirt Walker, penned an op-ed calling for a national model law to be adopted by the National Conference of Insurance Legislators (NCOIL) and for each state to implement a similar law.
Fourteen months later, at their spring meeting, NCOIL adopted the Distracted Driving Model Act. Nationwide led this effort working with the bill's sponsors, NCOIL staff, and a diverse group of stakeholders to move the bill through the NCOIL process. Nationwide's Product and Telematics team testified in support of the bill at NCOIL's 2020 summer meeting and we helped to identify safety advocates to testify in support of the bill over the three hearings it received.
The model act incorporates key provisions of successful state distracted driving laws and best practices identified and supported by safety advocates and recent academic research. It was adopted by a unanimous, bipartisan vote of the committee.
States that have adopted these laws have seen a 15 percent decrease in fatalities within two years, with some states experiencing even more dramatic decreases.
In 2020, Idaho, Indiana, and Virginia all enacted hands-free laws and South Dakota upgraded their texting ban to primary enforcement and added a handheld ban. Nationwide was supportive of these efforts.
Twenty-five states, plus DC have now enacted laws prohibiting all drivers from using handheld devices and on June 10, 2021, Brad Lemons, SVP PL P&C Product and Underwriting, gave testimony before the Ohio House of Representatives Criminal Justice Committee encouraging the passage of hands-free legislation in Ohio.
Combined with heightened public awareness, and the development and adoption of technologies like SmartRide, the enactment of these bills will significantly improve the safety of our roadways by reducing expensive and, too often, deadly crashes caused by motorists trying to operate a vehicle while driving blind because of looking down at a mobile device in their hand.