Insurance innovations to watch: Using data to manage risks
For decades, the insurance industry was seen as an industry that was slow to adopt change and innovation. While it can be debated whether those claims are valid, one thing is true—the pace of innovation in the insurance space has gained momentum in recent years, especially with the pandemic accelerating the need. Driven by technological advancements and investments, insurance innovations are now altering loss control practices for businesses, insurance products and the way insurers and insureds interact with one another. In fact, from 2016 to 2019, insurtech funding increased by 60% in the United States alone.1
This shift is important, as innovations in the insurance space help to drive speed, ease and efficiency.
Predictive Analytics
One key innovation to watch is predictive analytics tools, these are designed to collect data and make predictions. In the insurance space, insurers use predictive analytics to collect data from internal and external sources, which in turn allows them to understand and predict the behavior of their insureds and well as potential risks businesses face on a daily basis. This data can come from a variety of proven sources, including telematics, agent interactions, customer interactions, smart homes, large data sets, loss information and even social media.2
Not only can data garnered from predictive analytics tools help insurers better manage customer relationships, claims and underwriting practices, it can also be used to: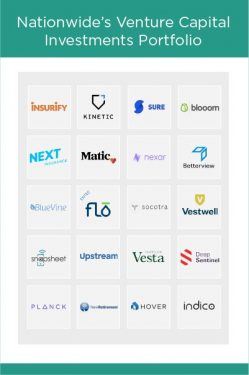 Flag accounts at risk of fraud
Triage claims
Highlight outlier claims
Anticipate claims trends
Price and select risks more accurately
Predictive analytics can also be used for modeling, which evaluates the impact of a change on an insurer's book of business. Put another way, predictive analytics give insurers the ability to stress-test different rate changes, underwriting standards and product changes, helping them choose what adjustments best fit their business needs.3
Telematics
Telematics refers to technology that gathers data regarding drivers, individual commercial vehicles or an entire fleet. Using this technology, businesses can track information related to a vehicle's location, driver behavior, vehicle diagnostics and similar operating metrics.4 Telematics solutions are incredibly versatile and can be deployed in cars, cargo vans, tractor units, buses, heavy equipment and specialized vehicles like construction equipment.
Telematics can help organizations of all sizes better protect their employees by monitoring driver behavior and vehicle performance. It can also detect unsafe driving practices (e.g., excessive driving speeds or hard braking) and allows fleet managers to hone driver coaching and even send immediate in-cab alerts to correct dangerous behaviors in real time.
Additionally, telematics can provide businesses with invaluable information related to mechanical issues with their vehicles and equipment. Diagnostic devices can flag an engine fault code, allowing businesses to investigate the issue before it becomes a bigger concern (e.g., the vehicle becomes nonoperational, leading to downtime and lost revenue).
With location data provided through telematics, fleet managers can quickly send emergency help to a driver's location in the event of an accident.
By leveraging telematics, businesses can lower costs and improve overall safety and efficiencies. And these benefits are not simply limited to the transportation industry. Any business that manages a fleet of vehicles could benefit from telematics, including those operating in the agriculture, manufacturing and construction sectors.5
For organizations, technological advancements allow them to better identify and adapt to various threats to their operations. And while these innovations can certainly have a positive impact on a business's bottom line, no tool or product is an adequate replacement for experience. As such, it's critical for businesses to partner with insurance experts who not only have an understanding of their pain points, but can also help them address their exposures in new and innovative ways.