Drought conditions worsen outside of Hurricane Ian's reach
Drought intensifies across much of the U.S.
Drought severity throughout much of the Great Plains – from Montana and North Dakota south through Kansas and Oklahoma – has intensified, and parts of the Southeast and Midwest are now experiencing at least mild drought conditions. Droughts along the West Coast are similar to last month, although they have worsened in the Pacific Northwest.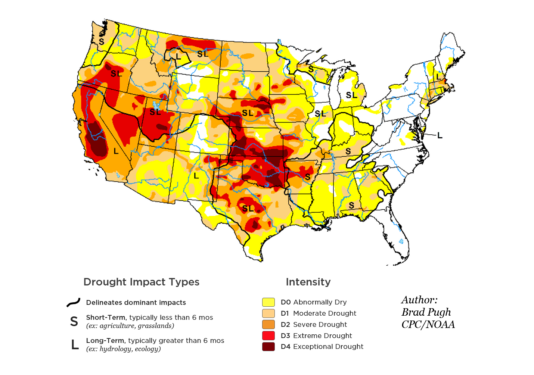 Ag News Highlights
Hurricanes can have devastating ag impacts
This space will be used to provide an update on the agricultural impacts of Hurricane Ian when those estimates are available. In the meantime, however, we can look at the effects of Irma, which similarly hit Florida in 2017, as a reminder that hurricanes of this magnitude can cause devastating losses in the ag sector. According to a 2018 impact analysis by the University of Florida, the economic impacts included:
Total crop losses of $1.31 billion
Field crop losses of $349 million
Citrus losses of $490 million
$151 million for other fruits and vegetables
$323 million for nursery and floriculture crops
Fertilizer supplies threatened again
A confluence of two issues — Hurricane Ian and the ensuing clean-up in Florida (a key fertilizer-producing state), and low water levels in the Mississippi River — threatens the availability of fertilizer. 75 percent of all phosphate fertilizer produced in the U.S. comes from Florida, and much of it is transported via the Mississippi.
Fortunately, most farmers already have what they need, in part due to stocking up after fertilizer prices fell off record highs seen earlier this year. Consequently, there is time for both an increase in precipitation to raise water levels in the Mississippi and recovery in Florida to keep prices from jumping back up. StoneX Group Vice President of Fertilizer Josh Linville believes spring 2023 is the time to keep an eye on prices if conditions don't improve.
Oil production cut another energy shock
OPEC+ announced a 2 million barrel a day cut in crude oil production on October 5. While the move was likely done to keep the price of oil (and revenue generated from oil) elevated, its secondary effects are numerous. Specifically for ag, diesel costs (which are still above $5/gallon) could climb even higher and remain elevated for the foreseeable future as OPEC+ has signaled little interest in helping to reduce energy costs.
Citations/Disclaimers
The information in this report is provided by Nationwide Economics and is general in nature and not intended as investment or economic advice, or a recommendation to buy or sell any security or adopt any investment strategy. Additionally, it does not take into account any specific investment objectives, tax and financial condition or particular needs of any specific person.

The economic and market forecasts reflect our opinion as of the date of this report and are subject to change without notice. These forecasts show a broad range of possible outcomes. Because they are subject to high levels of uncertainty, they will not reflect actual performance. We obtained certain information from sources deemed reliable, but we do not guarantee its accuracy, completeness or fairness.