The chicken or the egg? Bird flu is driving up the prices of both
Avian influenza, more commonly known as bird flu, is currently spreading rapidly through various types of birds in the U.S. and has resulted in the deaths of more than 35 million birds so far this year. Reports have also recently surfaced of infections in Europe, and France is now requiring that farmers keep chickens indoors. The virus is primarily spread by wild waterfowl (e.g., ducks, geese, and shorebirds) during migration, but once it is spread to a particular farm, it can easily infect an entire flock as well as the flocks of neighboring farms.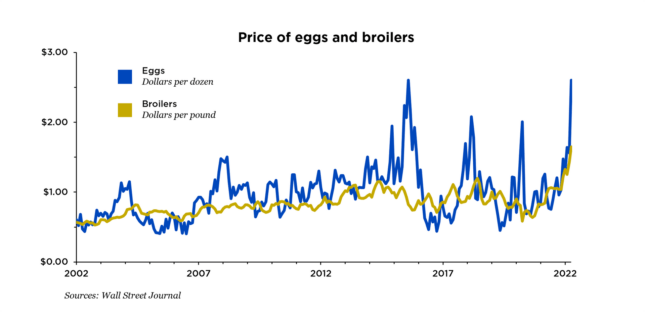 Ag News Highlights
Vegetable oil prices climb further
The Food and Agriculture Organization of the United Nations vegetable oil index has more than doubled since 2020. It is currently at an all-time high after the Russian invasion of Ukraine added on to the commodity bull market to further support high (and rising) vegetable oil prices. Last year saw supply shocks for both palm and canola oil, and global supply was restricted further in May of this year when Indonesia's ban on palm oil exports (in order to protect domestic supply) went into effect.
According to the Associated Press:
Vegetable oil prices were already at a record high before rising 23 percent in March
Soybean oil averaged $1,957 per metric ton in March, compared with $765 per metric ton in 2019
Palm oil prices have tripled in the same time frame
Slow progress in corn planting
Despite the U.S. corn crop taking on increased importance due to the war in Ukraine and corn prices at their highest level since 2012, planting progress for corn is off to a slow start. As of the start of May, only 14 percent of the U.S. corn crop was in the ground, which is less than half of the five-year average (33 percent) and one-third of the progress at the same time a year ago.
While the industry was hopeful for record yields due to the trade implications of this year's crop, AgResource Company's Dan Basse says that hope is already out of the question. Furthermore, he warns that yields tend to suffer for plantings after May 10-15. But even if record yields are unlikely due to delayed plantings, Wyffels Hybrids technical product manager Brent Tharp points out that there is still potential for very strong 2022 production.
Fertilizer costs likely to remain high
Port/production slowdowns and export restrictions associated with the war in Ukraine are continuing to drive inflation of nitrogen, phosphate, and potash fertilizers and natural gas. Additionally, the expected long-term financial sanctions on Russia are likely to hurt their exports even if the conflict ends sooner rather than later. Consequently, high fertilizer prices are not expected to decline soon and are likely to impact next planting season.
Citations/Disclaimers
The information in this report is provided by Nationwide Economics and is general in nature and not intended as investment or economic advice, or a recommendation to buy or sell any security or adopt any investment strategy. Additionally, it does not take into account any specific investment objectives, tax and financial condition or particular needs of any specific person.

The economic and market forecasts reflect our opinion as of the date of this report and are subject to change without notice. These forecasts show a broad range of possible outcomes. Because they are subject to high levels of uncertainty, they will not reflect actual performance. We obtained certain information from sources deemed reliable, but we do not guarantee its accuracy, completeness or fairness.