Mental health awareness for caregivers
KEY HIGHLIGHTS
89% of nonprofit organizations said they openly discuss the importance of mental health
About 1 in 3 specialty care organizations reported that mental health concerns were increasing at their organization
Between 2003 and 2015, more than 2% of nearly 50,000 deaths among adults 55 and older were suicides associated with long-term care facilities
Employees and volunteers of specialty care organizations — defined in this article as mental health programs, residential programs, senior living communities, and similar human services operations — are asked to provide aid to those in need, often in fast-paced and sometimes stressful environments.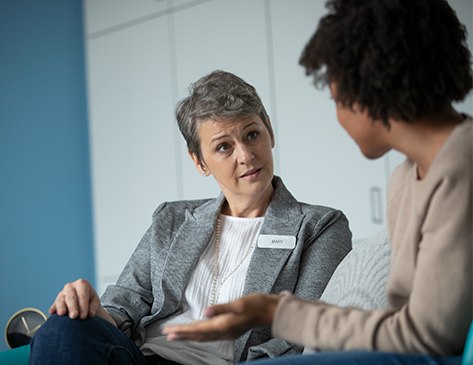 This stress was undoubtedly magnified by the COVID-19 pandemic, when one lapse in protocols or judgment could cause significant harm to individuals that specialty care organizations serve (e.g., residents or community members). For individuals to whom specialty care organizations provide aid, COVID-19 has had an isolating effect, as many were not allowed to see family members and loved ones due to pandemic-related policies. Put simply: Specialty care organizations faced difficult pandemic-related challenges and didn't have the policies or procedures in place to address them.
As a result, mental health has been a key area of focus for specialty care organizations in recent times, as indicated by Nationwide's Agent Authority research. According to this research — which surveyed 400 middle-market nonprofit and health business owners — 89% of nonprofit organizations said they openly discuss the importance of mental health. Furthermore, the majority of respondents felt they have created a safe environment for employees and volunteers to speak with leadership or take time off if they were experiencing mental health issues.
Still, according to the survey data, nonprofit organizations believed they could be doing a better job of prioritizing the well-being and mental health of employees, volunteers, and people they serve. Only a little more than half of respondents offer employees and volunteers access to mental health workshops, assistance programs, support groups, and similar services. This is concerning, as about 1 in 3 specialty care organizations reported that mental health concerns were increasing at their organization.
With May being Mental Health Awareness Month, there's no better time to put a spotlight on mental health concerns in specialty care and to review ways that organizations can support their employees, volunteers, and individuals they serve.
What is mental health?
For organizations to appropriately address mental health concerns, it's important to first understand what mental health refers to. In general, an individual's mental health includes how they think, feel, and act, and includes their emotional and social well-being.1 While mental health includes mental illness, the two aren't interchangeable. Specifically, an individual — whether they be an employee, volunteer, or individual they serve — can go through a period of poor mental health but not necessarily have a diagnosable mental illness.2 Additionally, a person's mental health can change over time depending on factors affecting their work or personal lives.3
In specialty care settings, mental health concerns can manifest themselves in various ways. For employees and volunteers, mental health issues can be compounded by heavy workloads, periods of high stress or issues regarding work-life balance.
These are top-of-mind concerns for specialty care organizations as — according to Nationwide's Agent Authority research — the majority of nonprofit business owners saw a negative impact from COVID-19 in 2020, with the total cost of operations being the most affected aspect of their business. This was followed by total revenue, employee or volunteer head count, and access to supplies.
The survey also found that some specialty care operations were not prepared for the greater demands of individuals they serve due to the pandemic. In fact, about 22% of organizations didn't have the necessary resources or channels in place to maintain partnerships. Furthermore, 21% of nonprofit organizations did not have a contingency plan in place to maintain operations through the economic uncertainty caused by the pandemic.
In other words, COVID-19 created unprecedented challenges for specialty care organizations as well as their employees and volunteers. Organizations had to establish new COVID-19 protocols to keep workers and the individuals they serve safe, while employees and volunteers were tasked with providing a high level of care, often with limited resources. Even though nursing is one of the fastest-growing professions in the country,4 the demand for nurses and nurse aides continues to outpace the supply. In fact, an estimated 27 million individuals will need long-term care by 2050.5 In the short term, the population of individuals ages 65 and older is expected to grow from around 13% in 2010 to over 20% by 20306 — and over a million new workers will be needed by 2025.7
COVID-19 also has had an impact on the mental well-being of the individuals these organizations serve. Throughout the pandemic, specialty care organizations were forced to restrict visitation to their facilities. This meant that individuals were quarantined to their rooms and weren't allowed to engage in social activities. In some cases, individuals with pre-existing mental illnesses (e.g., depression or bipolar disorder) had decreased access to their mental health providers, compounding mental health concerns.
If left unaddressed, mental health concerns can lead to employee and volunteer burnout, time away from work, the worsening of one's mental state, chronic physical health issues, suicide, and substance abuse issues. In fact, suicide and substance abuse issues are already prevalent in specialty care settings. Between 2003 and 2015, more than 2% of nearly 50,000 deaths among adults 55 and older were suicides associated with long-term care facilities (specifically among adults living in or transitioning to residential long-term care).8
Thankfully, there are several steps that specialty care organizations can take to address mental health concerns among employees, volunteers and clients.
Mental health at work
To provide support for mental health caregivers, organizations need to be proactive. The following are just a few strategies that employers should consider to make mental health a priority:
Understand the signs of mental health issues — It's important that employees and volunteers be equipped to spot the signs and symptoms of mental health concerns. This allows them to step in and help if an individual or peer is suffering from a mental health issue. The signs and symptoms of mental illness can vary based on the source of information, but may include: 9

Feelings of sadness, isolation, anxiousness and hopelessness
Confusion or an inability to concentrate
Fear or worry
Extreme mood changes
Low energy
Substance or alcohol abuse
Changes in eating habits
Excessive anger, hostility or violence
Suicidal thoughts/passive or active ideation

Have consistent intake protocols in place — Enrolling new participants or residents requires a broad assessment of whether the facility is equipped to provide the appropriate care and services. For consistency and to ensure that key considerations aren't overlooked, organizations should have a formalized process for intake. This could involve working off a master form or checklist when completing an assessment. In terms of mental health, having clear and consistent intake practices ensures that the unique needs of residents have been assessed. Organizations need to think critically about their capabilities in terms of providing care. Some individuals may suffer from mental health disorders or have a history of trauma. These needs are important to note, as they may alter how care and services are administered. For instance, if an individual has a history of a psychiatric condition, staff members will need to be trained on how to care for them and respond to potential incidents effectively. Whatever the process, organizations should have multiple professionals involved when it comes to deciding whether to accept a new resident. These professionals should offer different perspectives and have unique specializations in areas such as psychiatric care, counseling, independent living, vocational training, social work, education, restorative justice, youth care, and similar disciplines. This ensures a more holistic review of whether an individual is a good fit for the organization.
Train employees and volunteers on how to respond to mental health crises — Beyond recognizing the signs and symptoms of mental health issues, it's important for employees and volunteers to know how to respond to mental health crises. If an individual is having a mental health crisis, they can potentially inflict harm on themselves or others, making a swift and informed response even more important. While the specifics of de-escalating a mental health crisis can differ from situation to situation, some actions to consider include the following:10 11

Keep the individual engaged and become their ally.
Be adaptable and prepared to redirect conversations to avoid potential emotional triggers.
Remain levelheaded, and don't take anything the individual says personally.
Avoid passing judgment, and focus on the feelings of the individual.
Take a team approach to responding to mental health crises. There may be times and settings in which staff members and volunteers need to respond quickly without the benefit of team support. When this happens, a system should be in place to review the incident and help prevent recurrence. Also, it's worthwhile to have a formal, written suicide prevention plan written by a licensed psychiatrist. The plan should be communicated to employees, who should be thoroughly trained during onboarding and at least annually thereafter.
Intake procedures can help employees and volunteers respond to mental health crises as well, particularly when the organization outlines an individual's mental health needs or potential triggers as part of an initial assessment. Being able to meet a variety of needs can have a direct impact on an individual's mental health. Additionally, it's important to remember that first-time triggers or new mental health needs may appear throughout the duration of care. The needs of an individual may change as time goes on.
Consider the negative impact that COVID-19 has had on the people the organization serves — The COVID-19 pandemic has left some individuals feeling isolated, negatively impacting their mental health or pre-existing mental health concerns. For specialty care organizations, it's important to be proactive and regularly screen clients for symptoms of anxiety and depression. This is a good practice to continue long after the pandemic has ended. Should clients exhibit signs of mental health concerns, they should be referred to a specialist who is qualified to provide the proper care.12
Offer emotional support to all residents, including those without a prior history of mental health concerns — It's important to remember that the people an organization serves, regardless of their medical history, can experience stress or mental health concerns at any time. As such, it's crucial for staff members and volunteers to provide emotional support when possible. This can be as simple as checking in with individuals or including mental health screening as part of direct care tasks.13
Provide mental health resources to employees and volunteers — To support mental health among staff members, specialty care organizations can offer referrals or access to mental health professionals through their employee assistance programs (EAPs). They can also refer individuals to hotlines and related support groups/systems if there is no EAP in place. Furthermore, employers can make mental health self-assessment tools available to all employees and volunteers when feasible. Beyond offering employee benefits, supporting mental health can be as simple as hosting seminars or workshops that address depression and stress management techniques (e.g., mindfulness, breathing exercises and meditation). This can help employees and volunteers reduce feelings of anxiety and stress.14
Encourage open communication — It's not uncommon for individuals to feel ashamed to ask for help when it comes to their mental health. Additionally, employees and volunteers may not ask for assistance or time off to prioritize their mental health out of fear of punishment or losing their job. As such, it's important for organizations to take a top-down approach to mental health. Leadership and managers should openly support mental health initiatives and not shy away from opening a dialogue regarding mental health issues. It's also helpful for organizations to disseminate information regarding mental health issues to not only raise awareness but also to demonstrate the organization's commitment to the well-being of employees, volunteers and the people they serve.
Prevent and address employee burnout — While it may not be possible to eliminate job stress entirely, organizations can help employees and volunteers learn how to manage it effectively. Common job stressors include a heavy workload, intense pressure to perform at high levels, job insecurity, long work hours, excessive travel, office politics, and conflicts with co-workers. Often, some of the greatest concerns among employees and volunteers is when job expectations exceed what an individual or work group believes can be accomplished. Employers should be open to discussing these issues with personnel. This can help them monitor and address work-related expectations and how well those expectations align with individual and workforce capabilities. If there is a disconnect, employers should talk about it with their staff members and try to solve the issue. Changes in and outside the workplace can also create concerns — especially changes related to unknowns. Employers should talk about these changes in healthy ways. Beyond this, there are several ways to reduce work-related stress and help employees and volunteers improve their mental well-being:15

Make sure that workloads are appropriate when feasible
Have managers meet regularly with employees to facilitate communication regarding stress and mental health
Recognize and celebrate employees' successes; this contributes to morale and decreases stress levels
Provide a designated space where employees can sit quietly and alleviate their stress
Offer exercise classes, which can be a great way to relieve stress
The role of integrated care, telemedicine and teletherapy
Mental health concerns, domestic abuse and trauma can all have a devastating impact on an individual's total health. This is particularly true if these issues are left unaddressed.
Historically, in health care settings, these types of concerns have been treated independently of physical injuries. This creates situations in which general practitioners and specialty care providers work in silos. As a result, those seeking care are often less likely to receive holistic treatment for both their physical and mental health concerns during a given visit.
To address these gaps in care, physicians, psychiatrists, nurses, social workers and other care providers have advocated for integrated care. Put simply, integrated care is a growing, worldwide health care trend that focuses on providing coordinated care. It's intended to blend behavioral health services with general or specialty medical services, ensuring that individuals get the care they need regardless of how they seek treatment. What makes integrated health care unique is that it allows for the sharing of information among team members, which helps organizations create a comprehensive treatment plan to address the biological, psychological and social needs of the individual.
An integrated care approach has the potential to:
Reduce depressive symptoms
Enhance access to services
Improve the quality of care for individuals
Lower an individual's overall health care costs
As a result, an integrated care model can help specialty care organizations better address mental health concerns among clients, employees and employers.
It's worth noting that through telemedicine, the prospect of moving to an integrated care model is made easier. That's because telemedicine can easily connect an employee with general or specialty care quickly through the same health care delivery system. Many individuals are already benefiting from this concept using teletherapy.
In a general sense, teletherapy refers to the use of technology that connects therapists with their clients. Teletherapy can involve therapy sessions completed over the phone, group chats for group-based therapy or videoconferencing for individuals or couples. It's just one example of how, through telemedicine, individuals aren't restricted to one type of care. Instead, they have access to both primary and specialty care at their convenience and through an integrated channel.
KEY TAKEAWAYS
Nationwide's latest Agent Authority study surveyed 400 middle-market nonprofit and health business owners about a variety of issues, including the importance of mental health.
With May being Mental Health Awareness Month, there's no better time to put a spotlight on mental health concerns among these specialty care organizations and review ways they can support their employees, volunteers and the individuals they serve.
It's also crucial for these types of organizations to partner with insurance experts who understand their operations and specific needs.
Survey methodology
Nationwide commissioned Edelman Intelligence to conduct a 20-minute quantitative online survey among a sample of 200 U.S. middle market healthcare business owners and 200 U.S. middle market nonprofit business owners between January 5 – January 14 to explore the challenges facing business owners and the actions they've taken as a result of COVID-19, understand their outlook for the economy and their organizations in 2021, and gauge their experience working with insurance agents and buying or renewing insurance policies. For the purposes of this survey, middle market healthcare and nonprofit business owners were defined as anyone who self-reported as being a sole or part owner/decision-maker of a healthcare or nonprofit company with 25-500 employees or $10M-$500M in revenue or 20+ fleet vehicles. As a member of CASRO in good standing, Edelman Intelligence conducts all research in accordance with Market Research Standards and Guidelines.
Sources
8

https://jamanetwork.com/journals/jamanetworkopen/fullarticle/2735759