Survey: Inflation and interest rates weigh on business owners
The commercial lines outlook for the year ahead is a mixed bag, according to a recent Nationwide survey of business owners and insurance agents.
Close to home, wide majorities of agents and middle market business owners have a positive outlook for their businesses and agencies. But that bright spot dims considerably for attitudes about the national economy.
Even though the pace of inflation has moderated in recent quarters, prices remain high for certain materials, labor costs are higher, supply chains remain tight, and interest rates make loans and credit more expensive. These factors continue to weigh on businesses of all sizes, and are prompting some to look for ways to cut costs.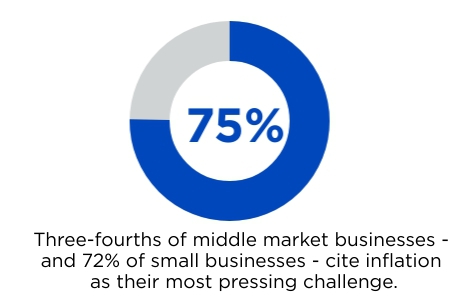 Findings from our survey:
Outlook on their own conditions:

55% of small business owners and 74% of middle market business owners give positive ratings for their own businesses
73% of agents feel positive about their business conditions.

Negative on national economy:

81% of small businesses and 61% of middle market business owners rate the national economy negatively
59% of agents give the national economy negative marks.

Key influences:

72% of small business owners and 75% of mid-market business owners say inflation has negatively impacted their business
50% of small business owners and 62% of mid-market owners also report being negatively impacted by rising interest rates.

Recession expectation:

66% of business owners expect a recession before the end of the year, and about 70% believe it will be as severe as the Great Recession.
57% of agents expect a recession, with about 74% believing it will be severe.
Economic pressures are prompting business owners to look for ways to cut costs. Few business owners listed the cost of insurance as a top economic concern, but many are still having conversations with agents about their coverage and requesting quotes for lower costs.
Survey results showed nearly all business owners are reviewing their coverage with 27% contacting their agent to review coverage.

The surveys did contain a bright spot related to hiring: 21% of small businesses and 42% of middle market businesses reported hiring new workers in the past six months. In addition, a third of agencies have hired workers in the last six months – a 13% increase from 2022.
Actions to take:
Have risk management conversations. Taking action to reduce risk helps keep workers safe and can minimize disruptions that can hurt business results. Nationwide's Loss Control Services has solutions that can be tailored to individual business needs across a wide range of industries.
Review policy details – such as ensuring property valuations and coverage limits are updated – to help provide full protection if a loss occurs. Because it's so much more expensive and time-consuming to make repairs, policyholders are paying more out of pocket after a loss if they haven't adequately adjusted their coverage limit.
Further details
You can read more about our survey and view results
You can also use this infographic to support your conversations with clients.