New survey reveals middle market business owners looking for more digital offerings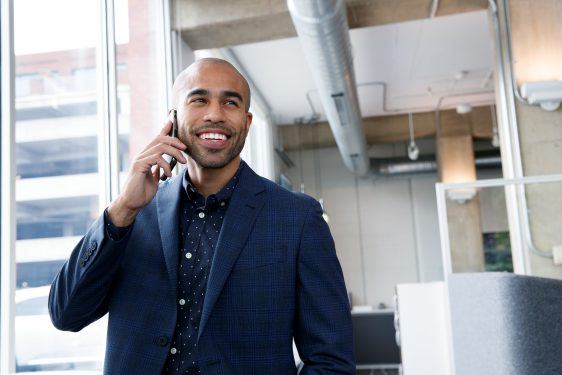 Businesses today are seeking additional assistance from their trusted insurance agents — whether it's digitally or face-to-face — to help keep their operations running smoothly. Agents need to be ready to provide clients with personalized guidance and top-notch services, ensuring they have the resources and support necessary to succeed throughout 2021 and beyond.
These points were emphasized within Nationwide's 2021 Agency ForwardSM Report, which compiled survey results from 400 middle market businesses and 400 independent insurance agents across the country. This article will summarize key insights from that research and explain how insurance agents can utilize this information to better support clients' and prospects' needs.
Driving trends within the middle market
Although the pandemic largely disrupted the economy and caused financial hardship for many businesses last year, the majority of middle market business owners are now feeling far more optimistic about the future than they were in 2020, as 79% reported that they have a hopeful outlook for the economy within the next 12 months. In comparison, just 62% of insurance agents also feel this way. Further, 81% of these business owners said they expect to see an upward trend in their own company's revenue in the coming year.
Even as the economy recovers from the events of 2020, however, the pandemic has left several lasting impacts within the insurance space, especially as it relates to technology reliance. Namely, clients are increasingly expecting their agents to be able to accommodate their insurance needs through digital offerings. In fact, 91% of middle market business owners reported that it's important for their agents to be equipped to assist them virtually when buying or renewing insurance policies, which is up 7% from last year's findings. Also, 89% of these business owners said it's important to them when buying or renewing an insurance policy to leverage websites that can showcase real-time quotes from a range of insurance companies to avoid having to contact each individual company — up 6% since 2020. Comparatively, fewer insurance agents (80%) reported finding such websites of greater importance.
Apart from an elevated demand for digital offerings, middle market business owners identified several other key elements they look for in insurance agents. Specifically, 93% of such business owners reported that they value speaking directly to agents when they have important insurance questions or related issues, representing a 6% increase from the previous year's findings. These business owners are also seeking reliability, as 94% said it's important to them to have insurance agents who have proven they can deliver during times of crisis — up 6% from 2020. Lastly, middle market business owners are hoping to see more flexible payment options: 94% reported it's important for them to have the ability to make payments when and how they want (e.g., monthly vs. annually, check vs. credit card and mail vs. online). This finding is a 9% rise over 2020's results. In comparison, insurance agents largely agree with these sentiments, specifically prioritizing direct interactions with clients.
It's clear that clients are looking for insurance agents who can offer tailored services and provide much-needed support when the unexpected occurs. If they haven't already, agents should be sure to invest in implementing digital offerings for their clients to help streamline complicated insurance processes, while still meeting clients' unique needs via live conversations and flexible arrangements.
Primary insurance challenges identified in the middle market
As businesses grow and enter the middle market, they typically tend to face a larger range of risks and insurance challenges than their smaller counterparts. Managing these concerns can take significant time and effort, as well as collaboration from numerous stakeholders. The top insurance challenges that middle market businesses have reported facing in 2021 include the following:
Based on these results, it's apparent that agents need to work particularly closely with their middle market clients during both the coverage selection and claims processes. In addition to helping clients secure affordable insurance solutions, agents should make a conscious effort to clearly explain policy wording and coverage conditions to them, thus ensuring a better understanding of insurance terminology. Agents should also consider introducing initiatives to simplify the coverage selection and claims processes. Doing so could potentially help clients minimize the time they spend on these activities.
How middle market businesses are responding to the current risk landscape
Amid the latest trends and challenges facing the middle market, business owners have taken several steps to remain successful and resilient this past year. Over half (51%) of these business owners have consulted their insurance agent to discuss their particular coverage needs, while just under half (49%) reported taking the time to review one or more of their commercial insurance policies. Additionally, 46% of middle market business owners said they have focused on gaining a better understanding of what their policies specifically cover, whereas 50% reported asking their agent to get their policies requoted by other insurance carriers to find better prices or more robust coverage.
Aside from making insurance adjustments, some middle market business owners have also introduced or changed their business plans to better protect their commercial assets in the existing risk landscape. A significant amount of these business owners (46%) reported establishing business plans for the first time, while 47% said they revised or refreshed their plans to address current economic, market or consumer developments.
What independent insurance agents can do to support middle market clients
Agents need to keep in mind that middle market business owners have become particularly favorable toward handling their insurance needs virtually. The majority of these business owners (57%) reported that they would actually prefer to have the entirety of their insurance needs managed digitally rather than in person. This represents a 6% increase from 2020.
Yet this doesn't necessarily mean that middle market business owners don't value proximity to their insurance agent. Although these business owners favor a digital experience, 82% still said it's important for their agent to be physically located nearby. With these findings in mind, insurance agents shouldn't solely rely on cultivating virtual offerings or expanding their client base to distant geographic areas. Instead, the best way for agents to support their middle market clients is to adopt a hybrid model that leverages effective digital capabilities while still making efforts to accommodate those who prefer in-person interactions (whether these interactions are frequent or occasional). Above all, agents should make sure to communicate with their clients to discuss their specific preferences between physical and virtual experiences, thus ensuring seamless interactions.
While offering quality insurance services is among agents' key responsibilities, middle market business owners are also looking for their agents to provide further solutions beyond commercial policy assistance. Namely, these business owners said they are seeking guidance on a variety of important risk management topics, including safety or loss control (43%), cybersecurity (41%), succession planning (43%), banking (52%), business interruption or disaster planning (45%), employee benefits (59%) and retirement (39%). From an agent perspective, agents reported receiving the most client requests for guidance on the latter three topics. In any case, this means that agents should make sure they are well-versed in these topics and ensure they have resources available to further educate clients who seek such guidance.
Lastly, it's crucial to note that there are several things agents are already doing that their clients greatly appreciate. In particular, 90% of middle market business owners reported that their agents are always there when needed, up 6% since last year. Further, 92% of these business owners said their agents can package their coverage quickly, and 91% reported receiving assurance from their agents about having sufficient insurance protection, both of which represent a 5% increase from 2020's results. Finally, 90% of middle market business owners said their insurance agents routinely check to confirm that their existing policies meet their current needs, up 7% since last year. Therefore, even as agents take steps to digitize their insurance offerings, supply additional risk management guidance and help clients navigate a post-pandemic environment, they should be sure to continue upholding these beneficial practices.
Survey Methodology
Nationwide commissioned Edelman Data & Intelligence to conduct a 20-minute quantitative online survey among a sample of 2,400 U.S. independent insurance agents, small-business owners, middle market business owners, Black business owners, Hispanic business owners and general consumers between June 22 – July 7, 2021, to understand what business owners and consumers value when buying or renewing insurance policies, explore the different challenges each audience faces around insurance, gauge perceptions of the economy, and find out the actions business owners and consumers have taken as a result of COVID-19 and the conversations they're having with agents. As a member in good standing with The Insights Association as well as ESOMAR, Edelman Data and Intelligence conducts all research in accordance with local, national and international laws as well as in line with all Market Research Standards and Guidelines.