2021 construction industry outlook
Construction is a fast-paced and ever-evolving industry. Each year, various trends and innovations emerge with the potential to change the way construction firms approach their operations. Because of this, it's crucial that construction-focused agents and their business owner clients educate themselves on the outside factors affecting the industry.
Key trends to watch in 2021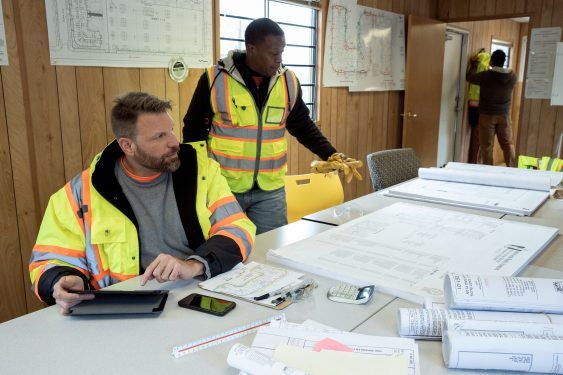 Economic uncertainty
For the construction industry, COVID-19 introduced a great deal of short- and long-term economic uncertainty.
According to Nationwide's Agency Forward research, 7 in 10 construction owners reported that COVID-19 negatively impacted their business. Furthermore, businesses that were disrupted by COVID-19 were more likely to see multiple aspects of their operations affected, particularly:
Total revenue
Number of new project bids
Material supplies
Employee head count
Project timelines and completions
Customer retention
Nationwide's research also found that many firms were unprepared for the unique challenges that COVID-19 created. Many businesses did not have the partnerships in place to meet project needs, a business plan to account for the shutdowns and economic uncertainty, or the resources necessary (e.g., parts, materials or products) to meet project demands.
Beyond the direct financial impact of the pandemic, COVID-19 altered project schedules, the material supply chain and the way firms approached their business.1 As a result of the pandemic, there is a greater emphasis on public and worker health. Well into 2021, businesses need to be thoughtful about how they schedule projects and meet with clients.
Furthermore, given the impact of COVID-19, construction starts fell 10% to $766.3 billion in 2020.2 However, the future looks positive, as — according to Dodge Data & Analytics' 2021 Dodge Construction Outlook — total U.S. construction starts are expected to increase by 4% in 2021 to $771 billion.3
Breaking down this data by construction type, dollar values will increase by 5% in 2021 for commercial building starts.3 While not part of Nationwide's appetite, single-family housing starts are expected to rise by 7% in 2021.3 This improvement could be a result of historically low mortgage rates or an influx of consumers desiring to live in less densely populated areas following the COVID-19 pandemic.
Still, when it comes to construction starts and the economy as a whole, businesses should expect a slow recovery, and many firms are uncertain as to what the future will hold.
According to Nationwide's research, top concerns for firms include meeting 2021 revenue targets, navigating decreased consumer demand, moving supplies, securing the right insurance and enforcing strict safety policies.
Despite these fears and feelings of uncertainty, more than half of the owners who saw certain negative impacts on their business foresee a return to normalcy in the second half of 2021. About 2 in 10 construction owners expect their revenue and project demand to decline in the upcoming 2021 peak season. As agents review new business and renewal opportunities, it will be important to understand the payroll/rating basis changes as construction activity accelerates.
Material shortages
Well into 2021, construction businesses are battling material shortages brought on by the COVID-19 pandemic. From January 2020 to January 2021, the cost of softwood lumber increased by a staggering 73%. Iron and steel costs rose by 15.6% in that same time frame.4 What's more, according to the National Association of Home Builders, these spikes have caused the price of an average new single-family home to increase by more than $24,000 since April 17, 2020.5
These price increases aren't just impacting raw materials, either. That's because steel is found in materials such as studs, appliances and vinyl siding, meaning the costs of many products used on the job have risen.4 This data is backed up by a recent survey from Construction Dive, which found that 71% of contractors are facing at least one material shortage, with lumber, steel and electrical supplies being the most sought-after materials.6
Material shortages are expected to continue, potentially leading to project delays.
Labor shortages
Even before the COVID-19 pandemic, the construction industry faced many challenges related to finding and securing qualified talent.
In fact, according to the Associated General Contractors of America (AGC), the labor market is so tight for the construction industry that 54% of firms are having difficulty finding qualified workers to hire.7 As a result, only about 35% reported that they plan to increase their head count in 2021.
Further complicating matters, approximately 33% of construction firms were forced to furlough or terminate employees due to the pandemic. Even though COVID-19 has left many out of work, construction firms are still finding it difficult to fill open positions.8 That's probably because many newly unemployed individuals don't have prior construction experience or aren't attracted to a career in construction, despite promises of high pay and significant opportunities for advancement.
Many experts anticipate that the labor shortage will continue for the foreseeable future. As a result, businesses will probably see project delays and increased costs. In some cases, construction firms may have to turn down project opportunities simply because they don't have the required labor.
Contractors will be faced with some difficult project decisions. In the long run, it's better for contractors to limit their projects to those for which they have adequate skilled staffing and management to protect their work quality and loss results. Historically, results deteriorate when staffing resources are stretched, which can impact a contractor's results and insurability.
Technology
Each year, emerging technologies are impacting the construction industry more than ever before. For example, using smart project management tools, project managers can make more informed decisions for tasks such as scheduling and purchasing building materials. Smart project management technology can also make the documentation of projects easier, leading to greater efficiencies.9
Drones have also become an increasingly vital tool for construction businesses; they can be used to take useful aerial photographs of a site and simplify the inspection of areas that are difficult, time-consuming or unsafe to evaluate.10
But beyond creating efficiencies, a number of technologies allow businesses to better protect their workers from injuries. Take wearables, for example, which are designed to collect data related to safety, an employee's location, worker biometrics and other key job site indicators. Using this data, employers can keep track of workers, improve efficiencies and reduce common employee exposures (e.g., heat stress and ergonomic injuries).11
Exoskeletons are also being used to safeguard employees. Overexertion injuries account for about $15 billion in direct costs to employers.12 These injuries are common among construction workers who perform strenuous physical activities for the majority of their workdays. To reduce these types of injuries, the use of exoskeleton technology is promising. Exoskeletons are designed to augment human strength, providing assistive force when individuals lift or move objects. Thus, wearers are protected from strains, sprains and similar overexertion risks.
A key loss driver in the auto line is distracted driving. It's imperative that contractors have a solid fleet safety program, including in-house MVR ordering, solid driver MVR criteria and a cellphone policy. More contractors are also incorporating telematics into the mix, while GPS systems, dash cams and dynamic dashboards have made significant improvements in employee driving behaviors. These systems, once uncommon, are becoming a necessity in today's contracting environment.
Mental health and substance abuse
Compared with national averages, construction workers have a 60% higher rate of substance use disorders.13
According to Nationwide's recent Agency Forward research, mental health and drug use are top-of-mind concerns for construction businesses. Approximately 31% of respondents indicated they had to contend with mental health-related issues at their workplace. As it relates to drug use, 26% of businesses reported navigating opioid addiction concerns among employees.
It's worth noting that business owners differed on whether mental health and drug-related issues were increasing in their workplace. While 23% of respondents felt employee mental health issues were increasing, 41% felt these issues neither increased nor decreased.