The future of work
The pandemic changed the workforce — how we work, how we interact with clients, how we recruit and retain employees, and much more. The future of the insurance industry is changing, too. Our latest Agency Forward® research focused on the future of work. The survey1 explored how the pandemic impacted agents, agencies and work environments, as well as challenges in attracting and retaining talent. These findings will:
Help provide a deeper understanding on how to balance your agency's growth strategy with employee expectations, especially around remote and hybrid work
Provide awareness on industry trends impacting agencies and agents, including client relationship challenges, increased digital communication and rethinking hiring practices and salaries
Working with clients
Building and maintaining client relationships proved difficult during the pandemic, although digital communications helped. Relationship management has improved, but it's still not back to pre-pandemic levels.
Close to half of agency principals and about a third of producers and customer service representatives (CSRs) find customer relationship management challenging today.
Challenges with customer relationship management
(Shown % Select, among those who've ever worked in a remote or hybrid setting)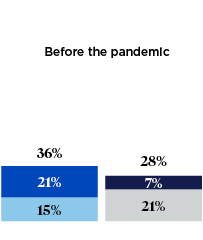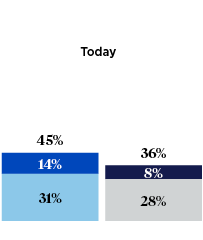 Customer communication became more digital during the pandemic. For example, most principals and over half of producers and CSRs saw their video calls increased dramatically.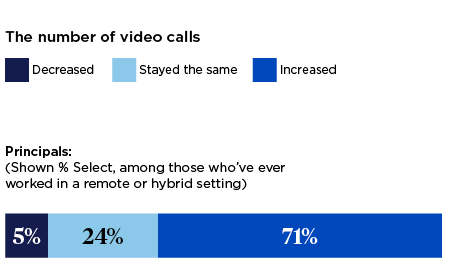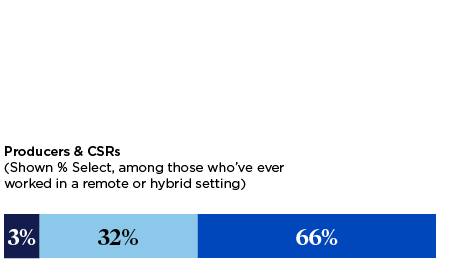 Customers still greatly value their relationship with their agent. According to Agency Forward research2:
87% of consumers say an agent plays a critical role to the customer experience
88% of consumers still value being able to speak with an agent when they need one
Changing work environment
Many of the changing trends in insurance are positive. For example, during the pandemic, principals quickly responded to the shifting needs of their workforce with investments in technology and training to better support their hybrid employees.
Principals invested in technology and training for employee communication and business organization to support a remote and hybrid workforce.
Actions taken by principals in remote/hybrid environment
(Shown % Select, among those who've ever had a remote or hybrid workforce)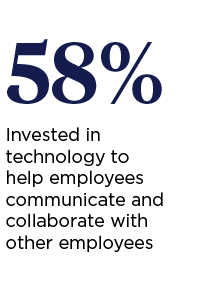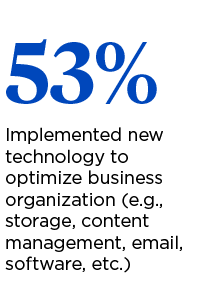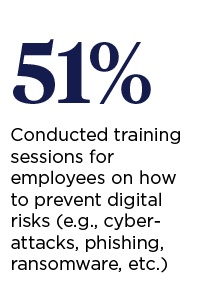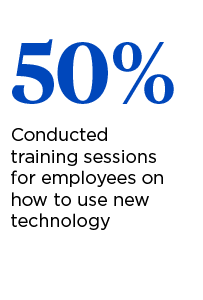 My employees/I feel more confident in digital tools, platform and application ability compared to before the pandemic
(Shown % Selected Yes)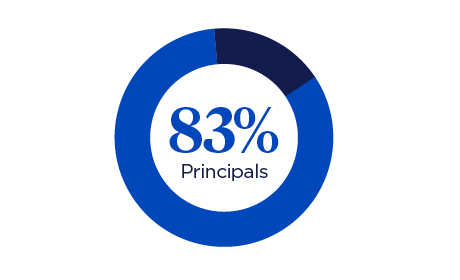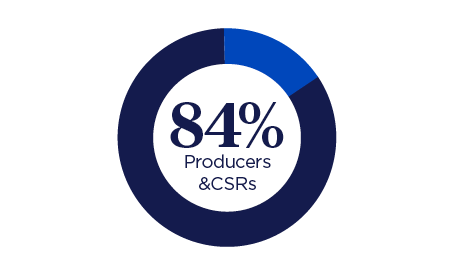 Principals are concerned about attracting and retaining talent, and a high percentage of them are planning to review salary levels due to inflation.
I plan to review salaries due to inflation
(Shown % Selected Yes)

Since the pandemic, work models have shifted in independent agencies. There's been a positive reaction to these changes, especially the changes that include flexible, hybrid work options. Most producers and CSRs feel their employer has been flexible with where they choose to work, and over half prefer a hybrid work environment.
There's alignment that employees will provide the most value for the company when working in a hybrid model.
Thinking ahead to a post-pandemic world, my employees will provide the most value to my company when they're:
(Shown % Select)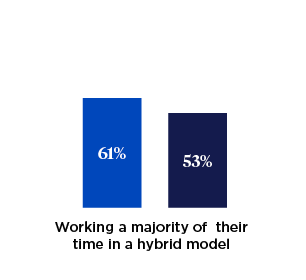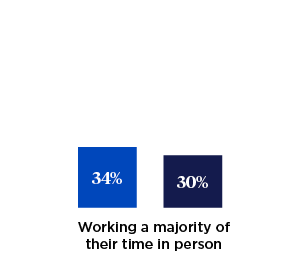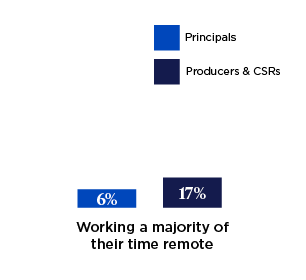 The future of insurance is clear: The industry is changing. The pandemic brought challenges to our business, in how we work and in how we hire and retain talent. The keys to growth and success are providing flexibility and finding solutions that work for everyone.
Citations/Disclaimers
1

"Nationwide Agency Forward® Future of Work," (March 2022).

2

"Consumers increase digital adoption while still valuing agent relationship," Blair Crossan, agentblog.nationwide.com/market-trends/emerging-trends/consumers-increase-digital-adoption/ (July 13, 2021).