Youth movement: the generational shifts driving today's collector vehicle market
Is driving and car culture really on the outs with America's youth?
Thankfully for agents, the answer is no. Despite grim warnings that "kids these days" just don't care about the automobile, Hagerty data is proving just the opposite.
The most recent Hagerty "Why Driving Matters" survey of 10,000 U.S. drivers shows the younger generations, Millennials and Gen Zers, are more likely to crave a classic or collector car than their Gen-X parents or Baby Boomer grandparents:1
Ownership interest in classic and collectible vehicles by generation1
Millennials: 57%
Gen Z: 53%
Gen X: 49%
Baby Boomers: 33%
Silent: 19%
This is good news. Because owning and driving collector cars is officially a multi-generational hobby.  Boomers may have ruled the roads over the last quarter-century, but younger drivers and their eclectic tastes are taking over the nation's driver's seats.
For agents, this brings new opportunity to build relationships with the next generation of vehicle owners as they enter their prime earning years.
Understanding "classics," collector cars, and enthusiast vehicles
Before unpacking these generational shifts, it's important to first understand what we mean by classic and collector cars.
Is the quirky DeLorean, a favorite among youthful buyers after a memorable run in the Back to the Future film franchise, truly a classic? Or at least more so than a throaty V8 1966 Ford Mustang? And what about other unique 1980s and 90s vehicles without the same cinema fanfare?
Are they classics? Collector cars? As always, it depends.
Agents writing in this space should know that "collector car" is simply a catch-all term for any vehicle qualifying for specialty policies. Other terms for these vehicles, each with their own bespoke definition, may include:
Vintage is usually ascribed to those vehicles manufactured between 1919 and 1930. The 1916 Ford Model T is a great example.
Antique vehicles are those aged 25 years or older according to the Antique Automobile Club of America.
Classic actually describes a "fine or distinctive automobile, American or foreign-built, manufactured between 1915 and 1948" according to the Classic Car Club of America.
Just remember, these definitions aren't absolute.
Any vehicle may be considered collectible (or not) based on its scarcity and condition. In fact, agents can safely ignore the above terms altogether. "Enthusiast vehicles" is the evolved term Millennials and Gen-Z (as well as Hagerty) use when referencing these special rides.
The one feature enthusiast vehicles have in common isn't their age, but their usage. Almost any car or truck may qualify for a collector policy — from mid-century hot rods and Seinfeld-era SUVs to supercars born this year — just as long as it's not a client's everyday car or "daily driver."
America's favorite enthusiast vehicles by generation
Hagerty receives thousands of annual quote requests from enthusiasts in every age group. (Seriously. We've gotten calls from individuals aged 16 to 101 years young.) So we have a pretty good idea of which vehicles are appealing to different generations.
Not surprisingly, Chevrolet Corvettes and Ford Mustangs are well represented across the board. If you find clients with these vehicles in their garages, chances are they'll benefit from a collector car policy.
Here's a list of the top five collector vehicles generating the most interest among the ages. Identifying these vehicles in your book or in a prospect's list of assets may represent an opportunity to pick up new specialty business:
Gen–Z (born 1995–2012)
Most called-about vehicle: 1989–1997 Mazda MX-5 Miata*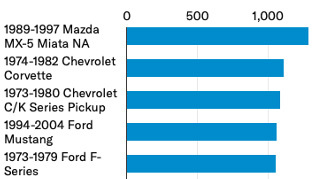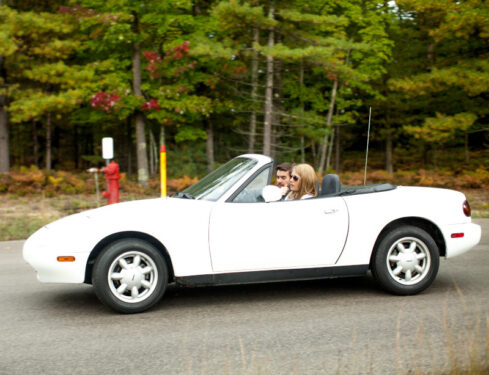 Millennials (born 1982–1996)
Most called-about vehicle: 1981-1987 Chevrolet C/K Series Pickup*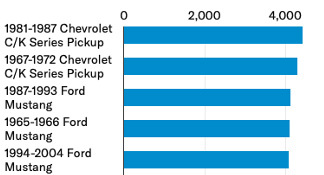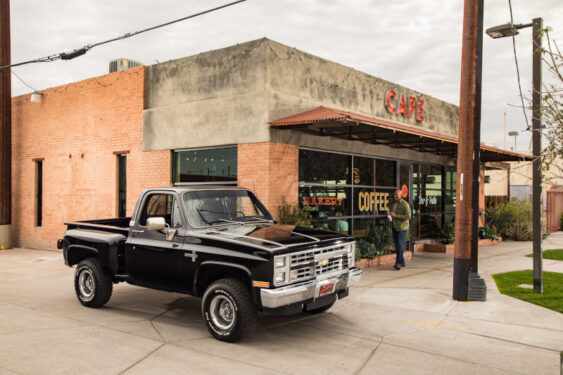 Generation–X (born 1965–1981)
Most called-about vehicle: 1967–1969 Chevrolet Camaro*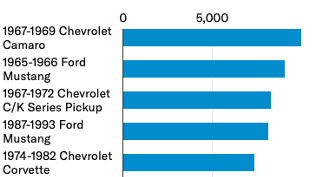 Baby Boomers (born 1946–1964)
Most called-about vehicle: 1972–1984 Chevrolet Corvette*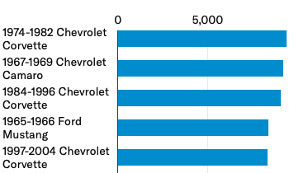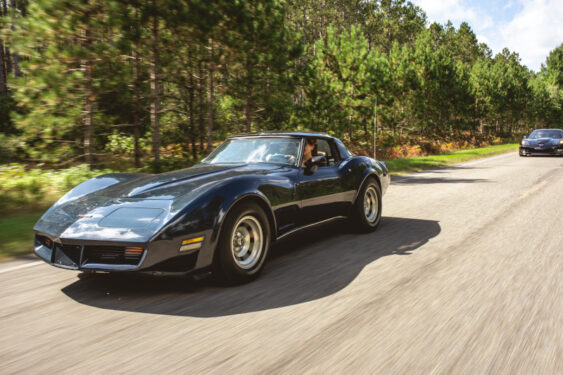 Finding next-generation enthusiast clients
More good news: there's opportunity everywhere to find and engage with younger enthusiasts.
Local events like Cars & Caffeine™ rallies or RADwood activations are fun, low-stress events loaded with younger prospects. Now owned by Hagerty, RADwood is the premier automotive lifestyle event celebrating cars and car culture from the 1980s and '90s.
Millennials, who will soon become the hobby's largest demographic, are more interested in these community meetups and hands-on-the-wheel experiences than any other age group.2
You can even go hunting for collector car clients without leaving your office. Look for enthusiasts already on your book who have that second or third car they love, but rarely use. When households have more cars than licensed drivers, there's a great chance one of those vehicles is a fun collector car.
Agents can earn trust and customer loyalty by shifting these cars from standard to collector car policies, often saving clients up to twenty-six percent per premium.3 The consultative effort to propose and confirm a policy change is minimal and typically boosts both long-term retention and additional referral opportunities.
Historic value gains over the last three years among most enthusiast vehicles is another great reason to connect. Use Hagerty Valuation Tools® to calculate changes, share value gains, and make sure your client's cars are protected for their true worth.
Sharing the benefits of Hagerty Drivers Club®, the ultimate membership community for car lovers, is another opportunity to engage with younger collectors. Eighty-four percent of Millennial enthusiasts tell us they'd be interested in purchasing a membership, with emergency roadside assistance, VIP experiences, and Marketplace benefits highlighted as most appealing.4
Underwriting guidelines and agent resources
Collector policies aren't just for old cars. They're designed for unique enthusiast vehicles of all ages and conditions. These are the cars and trucks your clients want to love and enjoy for a lifetime, not drive into the ground.
In other words: Hagerty policies are for the vehicles people love – not those they need.
Owning and driving these unique vehicles is a passion shared by enthusiasts of all ages. As younger drivers continue flexing their economic muscle, you'll find new opportunity to recognize that passion, offer proper asset protection, and nurture relationships with this new generation of client.
Nationwide has partnered with Hagerty to keep your clients covered with collector car insurance designed for the unique needs of all classic car collectors.
Underwriting guidelines for qualifying vehicles are always available by visiting the Hagerty Agent Business Center. Fact finders, sell sheets, and sample vehicle lists are a click away. Recorded trainings are also available.
Call 888-566-9701 or live chat at hagertyagent.com to ask questions or to discuss additional client vehicle coverages.
As your expert partner in all things automotive, Hagerty is here to help.
Citations/Disclaimers
1

Hagerty Why Driving Matters Survey, 2020. Data compiled by TRUE Global Intelligence.

2

Hagerty 2022 Enthusiast Report, 2022.

3

Figure based upon 2021 consumer data collected by Hagerty on single vehicle quotes, with premiums $5,000 and under, from several daily driver (or "Everyday") auto insurance carriers.

4

US Direct Brand Tracking Study, 2021.

*Source: Hagerty quote data.