Taking a closer look at personal lines claim experiences
Successful independent insurance agents recognize the value of providing an excellent client experience, especially when handling claims. According to a recent Agency Forward survey, incorporating digital capabilities into the claims management process has become increasingly important. It also provides an opportunity for agents to enhance their services and boost client satisfaction.
By looking at these survey results, personal lines agents can better understand policyholders' perceptions of the overall claims experience and attitudes toward digital claims management offerings. This gives them the information needed to help serve their clients successfully alongside their insurance carrier partners.
Overall claims experience insights
Regarding claims occurrence, it's important to note that approximately 3 in 10 policyholders surveyed filed a personal lines claim in the last 12 months. Of those who filed a claim, more than three-quarters (82%) reported being satisfied with their claims experience.
Although most respondents were pleased with their claims experiences, 18% of policyholders felt the opposite, stating their experiences were dissatisfying. Issues that negatively swayed policyholder satisfaction during the claims process varied. Specifically, consumers shared the following reasons for being unhappy with their claims experiences:
Filing the claim was a slow process (26%)
Filing the claim was a difficult process (22%)
Navigating the claim was more challenging due to COVID-19 protocols (21%)
Filing the claim required too much paperwork (22%)
Regarding agent support when filing and tracking claims, 50% of policyholders said their agents were very helpful. Nevertheless, 12% of consumers stated that their agents weren't helpful at all, showcasing room for improvement.
Digital claims filing insights
In terms of policyholders' general preferences for filing claims, 60% indicated they were more likely to file claims over the phone or in person; the remainder said they were more likely to file claims digitally. Yet, out of the policyholders surveyed who experienced a claim, less than 30% chose to file digitally when given the option.

Regarding digital claim filing preferences, 3 out of 4 consumers said they want access to a website or app to track the progress of their claims from start to finish, with the majority (68%) indicating they want email alerts or texts on the status of claims.

Beyond online claims tracking, digital services that streamline the process and save time are also top of mind to the majority of policyholders—such as conducting video inspections that would potentially expedite the claim (70%) or connecting with a claims associate on a video call to assess damages (53%).
Top takeaways and agency opportunities
As a whole, survey data provided the following three takeaways for personal lines agents:
1. Policyholders value ease and speed in the claims filing process.
Survey results revealed that policyholders value expediency and efficiency when claims occur, both in filing and managing their claims. With just half of those surveyed rating their claims filing processes as fast and easy, this provides a benchmark for agents to evaluate and/or enhance their claims management strategies to better align with and support clients' expectations.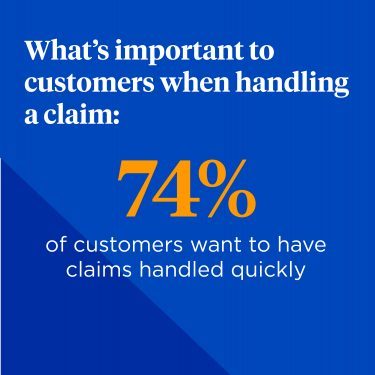 2. Policyholders want both digital and personal assistance.
When claims happen, they feel personal, so it's easy to understand why policyholders value having access to agent expertise to guide them through the process. Consumers also want claim filing and tracking convenience, whether their preference is digital, over the phone or in person. With digital tools at their disposal and an awareness that policyholders value and welcome their expertise, agents are well-positioned to deliver on both of those needs.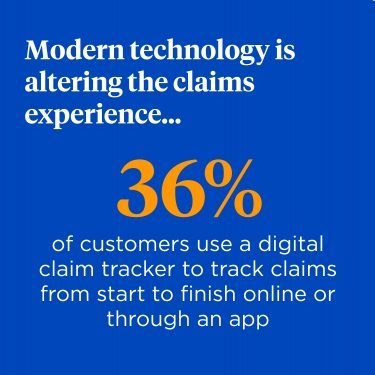 Martha Frye, Nationwide's Senior Vice President of personal lines claims, emphasized this concept in a recent interview with Digital Insurance.
"Customers continue to tell the industry that they want to speak to someone upfront, understand their coverage, understand what's going to happen next and get everything set, and then they're more willing to do digital interactions," Frye said. "Otherwise, you call your adjuster and maybe you get voicemail. Then it's, 'three people are involved in my claim, five people are involved.' If you can push information to them at the times that they may be less assured, or if there's a delay or anything like that, then you don't involve more people in their claim and you don't have these times where they feel unsure."
3. Policyholders desire access to online claims tools.
Whether or not a policyholder ever files a claim, most of those surveyed indicated they value knowing they have access to various digital claims management services. This includes things like access to online filing and tracking, participating in video inspections and receiving text alerts for claims tracking. However, the adoption of digital tools among agents remains limited. The bottom line is that agents who provide their insureds access to digital claims tools are enabling speed and efficiency—the two most valued aspects policyholders said they want and expect. An agent who provides access to these tools supports a smooth claims experience, and in turn, benefits from a clients' loyalty.
View the infographic for more insights from this Agency Forward survey.
Citations/Disclaimers
Nationwide commissioned Edelman Data & Intelligence to conduct a 20-minute quantitative online survey among a sample of 2,400 independent U.S. insurance agents, small business owners, middle-market business owners, African American business owners, Hispanic business owners and general consumers between June 22 and July 7, 2021. This was done to understand what business owners and consumers value when buying or renewing insurance policies, explore the different challenges each audience faces around insurance, gauge perceptions of the economy and find out the actions business owners and consumers have taken as a result of COVID-19 and the conversations they're having with agents. As a member in good standing with The Insights Association and ESOMAR, Edelman Data & Intelligence and Nationwide conduct all research in accordance with local, national and international laws and in line with all Market Research Standards and Guidelines.