March Agriculture Markets Review
Effects on U.S. agriculture from Russia's invasion of Ukraine
Russia and Ukraine are significant contributors to global trade, and the Russian invasion of Ukraine is likely to have a large impact on U.S. agriculture. Specifically, the markets for wheat, corn, seed oils, and crude oil stand to have a decrease in supply. Prices should rise or remain elevated in the affected markets and, depending on the damage caused by and duration of the war, could last into next year for some goods.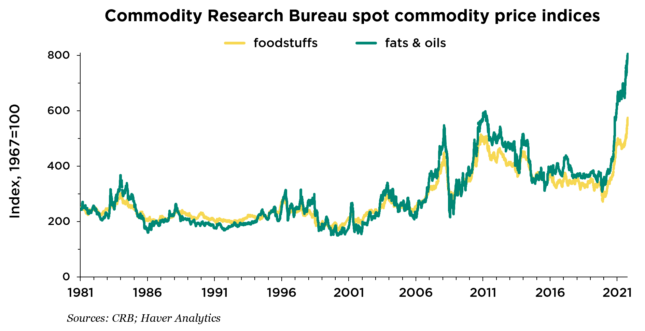 Ag News Highlights
Drought costs California ag $1.1 billion
A new report from the University of California Merced estimates the cost of the 2021 drought on the California agriculture industry to be $1.1 billion and up to 8,750 full- and part-time jobs. Additionally, at least 395,000 acres have been left idle due to an inability to water them.
2020-21 were the second-driest two years on record for California. According to Josue Medellin-Azuara, lead author of the report, when compared to the previous drought in 2012-2016, conditions were worse last year but economic impacts have not been as severe as 2015 (the worst year of the that drought).
Input costs for beef are very high
Grain prices, which were high prior to Russia's invasion of Ukraine and have soared since, are raising the cost of feed for cattle. With the retail price of beef already at a record high, continued upward pressure on input prices could cause consumers look to other, less-costly forms of protein. Furthermore, if the war continues even for another couple months, it will disrupt Ukraine's planting season and could keep feed costs very high into next year. More details on commodities affected by the Russian invasion can be found on page two of this report.
Citations/Disclaimers
The information in this report is provided by Nationwide Economics and is general in nature and not intended as investment or economic advice, or a recommendation to buy or sell any security or adopt any investment strategy. Additionally, it does not take into account any specific investment objectives, tax and financial condition or particular needs of any specific person.

The economic and market forecasts reflect our opinion as of the date of this report and are subject to change without notice. These forecasts show a broad range of possible outcomes. Because they are subject to high levels of uncertainty, they will not reflect actual performance. We obtained certain information from sources deemed reliable, but we do not guarantee its accuracy, completeness or fairness.