Selling telematics has never been easier
According to Nationwide's latest 2021 Agency Forward study, 51% of consumers reported they would consider a telematics program in the future while almost one in five agents (19%) think that the time and costs associated with offering telematics to a customer outweighs the benefits and nearly a third (27%) believe their clients wouldn't consider adding it to their policy.1
In addition, a communication gap exists between agent and customer where 87% of agents reported having discussed telematics with consumers while 58% of consumers report they have never had a conversation with their agent. For consumers, demand is increasing, and for agents, the barrier is time vs. benefit which only ease of carrier servicing and customer experience can overcome.
Making telematics easier for the independent agent
Thirteen percent of agents believe it's not worth their time trying to sell telematics to clients1, but with the small amount of time it takes to offer it on a quote and all of the potential benefits for agencies and customers, it's a miss to not offer these products.
At Nationwide, we've implemented technology so that in a few simple steps, independent agents can configure their comp rater to automatically recommend the right telematics program to their clients, get lightning-fast quotes, and pre-fill data during the bridging experience to save the agent time and ensuring customers are maximizing their savings. We also make the ease of service a priority. We handle the member onboarding experience for the agent by providing clear member instructions and communications, making the members data, discount, and rate information easily accessible through our easy-to-use app.
Making it easier to meet customer needs
Customers are seeking ways to reduce their auto rates with usage-based telematics programs. In fact, according to J.D. Power, participation in telematics has increased by 30% since 2020. Not only do customers want to save money, they also do not want to feel like they're supplementing the cost of riskier drivers as 66% of consumers say they are concerned they are paying full price for insurance even though they drive safer than others.2 Distracted driving is also a top concern for consumers, with 83% agreeing that distracted driving as a result of looking at a mobile phone is a major problem. Luckily, telematics can help keep the roads safer and keep premiums down. By providing distracted driving feedback to drivers through our SmartRide program, Nationwide noticed a 10% reduction in everyday hand-held distractions among drivers.3 Not only can telematics help customers save money, but it could also potentially save their lives.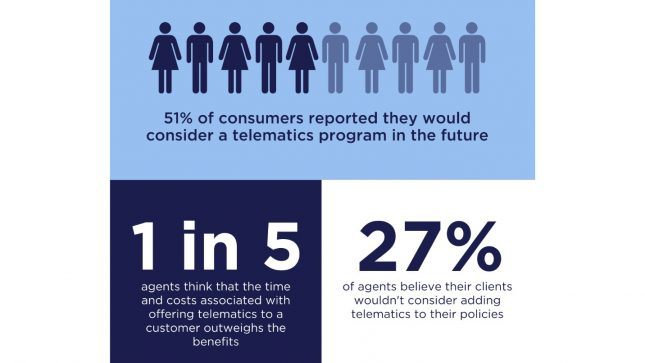 To meet the need, Nationwide has made it a priority to simplify the customer experience. In most states, customers have the option to participate in Nationwide's SmartRide or SmartMiles program with an easy-to-use app or device that can be activated in five minutes and provides personalized driving feedback. With a simple onboarding process, easy-to-understand metrics and measurement, and frequent program updates, clients save time and money. And when the customer has a question, they can call our dedicated telematics support line to get the answer they need.
Easier growth for your business
Telematics is proven to increase client retention, customers who participated in the SmartRide program had retention rates four percentage points higher than the Nationwide average.4 With nearly half of consumers interested, the growth opportunity is there. And to help agents capitalize, Nationwide is committed to enabling a more efficient selling experience by making it easier for agents to educate their clients on how they can get more control over their monthly price, customize their insurance to fit their needs, and become safer drivers.
Sources
1

2021 Agency Forward Study

2

2021 Agency Forward Study

4

Source: 2020 national Nationwide data; for customers who complete the SmartRide evaluation period