Personalization and control with telematics
Help your clients control their auto rates
According to a recent Agency Forward survey, 55% of agents agree the biggest advantages for clients who adopt telematics is that it provides them with better pricing.3 It's important to understand how telematics can help you retain your customers.
Nationwide offers the advantage of choice between mileage-based or behavior-based solutions. These usage-based insurance programs stand out from the competition and give agents the tools to help customer drive safer and save money. Based on the Agency Forward survey, 78% of customers who currently participate in telematics programs agree that saving money on their auto insurance is a top motivator for them.3 Drivers who participated in the SmartRide® program had first term retention rates 5.7 percentage points higher than the Nationwide average.1
Personalize your clients' auto insurance
Your clients trust you to provide personalized solutions in an overwhelming sea of insurance options. Telematics makes it easy to match customers with the right program for their unique needs, so they have more control over how much they pay for auto insurance. Agents utilizing telematics to help place customers with the right policy will be ahead of the competition by offering rates specific to each driver. Giving customers a peace of mind that they are getting the best rate and increasing the likelihood of customers stays with the agency longer. According to the Agency Forward findings, these are the top reasons customers participate in telematics.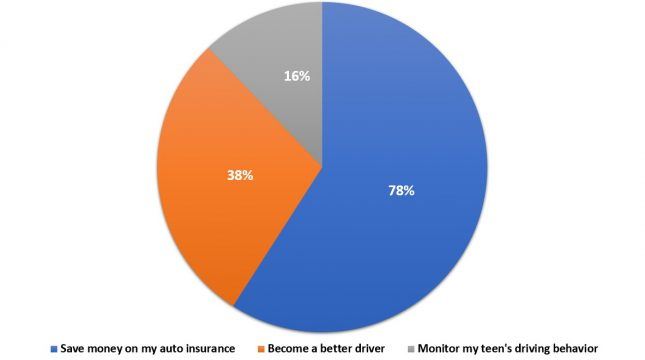 Nationwide made it easier for you to get the best rates for your customers
Nationwide is committed to making business easier and more efficient on agents. Nationwide Express is designed for the independent agent allowing you to sell wherever your customers are while simplifying the entire quote, bind and pay experience.
Here are a few easy to remember tips to help maximize savings and ensure each customer is placed in the right telematics program.
 Grow your business by offering Nationwide telematics on every quote.
58% of consumers report they have never had a conversation with their agent about telematics.3
Remind your customer they can earn a discount of up to 40% for safe driving.
SmartRide® is a perfect fit for safe drivers, offering up to a 15% discount upon enrollment.
Quickly identify how many miles your customer drives annually.
SmartMiles® is saving low-mileage drivers 25% more compared to a traditional policy.2
Customize your comp rater effectively with Nationwide Express
Nationwide Express® makes your life easier by providing a recommendation that fits your clients' needs based on the data you enter in the comparative rater. SmartRide® or SmartMiles® are automatically applied to each vehicle where available based on program rules and vehicle mileage if comparative rater users have telematics enabled. This agent specific tool provides an easier and faster sales experience while enabling new growth by allowing agents to sell in the office, on the go, and through the web. Simplicity is important to agents and customers and using Nationwide Express can save time while placing customers in the right telematics programs based on the amount of driving, they do. As an agent you can spend less time quoting and more time discussing the benefits and features of a customized telematics policy with your customer.
Disclaimers
SmartRide Stated discount is an approximation and does not apply to all coverage elements; actual savings vary by state, coverage selections, rating factors and policy changes. Discount applies at the next policy renewal and is subject to change based upon actuarial support or driving behavior at subsequent renewals or with changes in drivers or vehicles on the policy. Discount may go down at renewal in some states.
SmartMiles Monthly estimated mileage varies based on the number of days in each month of your policy term, as determined by your policy effective date. Cost per mile is subject to change during your policy period if any changes are made to the policy. Please refer to your policy declarations page for the total cost per mile. Estimated vehicle premium is subject to change based on actual miles driven during the mileage period and any changes made to the policy. Discount applies at the next policy renewal and remains in effect while the vehicle is enrolled in SmartMiles. Availability and actual savings may vary by state, coverage selections, rating factors and policy changes.
Q49: Which of the following statements best describes whether you have been enrolled in a program that gives you a discount by measuring your driving behavior using a device that plugs into your vehicle or a mobile phone app? Q56. You mentioned you are currently participating or have participated in a program that measures your driving behavior using a device that plugs into your vehicle or a mobile phone app. From the list below, please select all the reasons why.
Base: General Consumers (n=1,000)                                                                                                                     EDELMAN DXI / © 2021 **Data on this slide validates Key Finding #5
Sources
1

2019 national Nationwide data; for customers who complete the SmartRide evaluation period

2

SmartMiles savings based on national data through February 2020. Program availability varies. SmartMiles includes a base premium plus a variable premium based on the coverages in force and the days and miles driven.

3

2021 Nationwide Agency Forward Telematics Survey Report