Tight labor market leaves farms in need of workers
Tight labor market squeezes farmers
Tightening in the overall labor market seen over the last two years has also driven a lack of supply within the ag labor market. In many places, hourly and weekly wages for jobs which offer preferred working conditions (e.g., better hours, less physically demanding work, insulation from the weather, etc.) have risen beyond what most farms can offer. Data from the H-2A visa program, which is used by farmers to get international workers when domestic workers are not available, confirms the difficulties farms are having: applications by farms for H-2A workers from January through March were up by 17 percent year-over-year.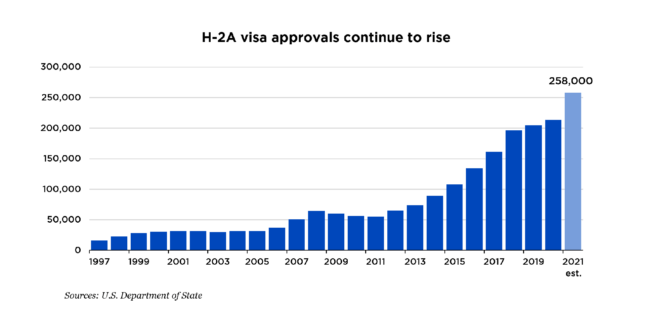 Ag News Highlights
U.S. wheat crop in poor shape
Droughts have devastated the harvest potential for the U.S. winter wheat crop and could cause some farmers to abandon planted acres rather than absorb the cost of harvesting a wheat crop in poor condition. Experts estimate as much as 10 percent of the winter wheat crop in Kansas (the country's largest wheat state) and up to 30 percent of Colorado's could be abandoned.
The state of the winter wheat crop combined with the downward trend in international harvest prospects and the effects of the war in Ukraine have added more importance to the U.S. spring wheat crop. Unfortunately, snow and rain have disrupted the planting season in North Dakota, the country's largest grower of spring wheat. As of May 22, U.S. farmers had planted only 49 percent of planned acres, tying 2014 for the slowest pace since 1996; North Dakota farmers had planted only 27 percent, the second slowest pace in the last forty years. Considering the soaring wheat prices, a weak spring wheat crop would be a significant missed opportunity for U.S. farmers and would add further stress to the global wheat market.
More farms for sale
Farmland sale activity is soaring, with acreage sold via auction up by over 100 percent from a year ago, while the dollar value of auction sales is up by 130 percent, according to Farmer's National Company. While Doug Hensley of Hertz Farm Management points out that values are well above standard going rates; several recent sales have surpassed $20,000 per acre, a figure that would have been unheard of until recently. The factors most responsible for the elevated values are high commodity prices and inflation. Additionally, rising interest rates could negatively affect demand through decreased affordability going forward, but they have not had a significant impact to this point.
Corn planting progress improves
After a slow start, corn planting had a strong May. As of June 5, 94 percent of planned acres were planted, slightly ahead of the five-year average. Additionally, the current crop condition is encouraging, with 73 percent in good or excellent condition. Soybean planting and emergence are both in line with the five-year average, but it is too early to measure crop conditions for soybeans.
Citations/Disclaimers
The information in this report is provided by Nationwide Economics and is general in nature and not intended as investment or economic advice, or a recommendation to buy or sell any security or adopt any investment strategy. Additionally, it does not take into account any specific investment objectives, tax and financial condition or particular needs of any specific person.

The economic and market forecasts reflect our opinion as of the date of this report and are subject to change without notice. These forecasts show a broad range of possible outcomes. Because they are subject to high levels of uncertainty, they will not reflect actual performance. We obtained certain information from sources deemed reliable, but we do not guarantee its accuracy, completeness or fairness.