Study shows significant ag losses due to Hurricane Ian
Preliminary ag losses from Hurricane Ian are significant
In October, the University of Florida Institute of Food and Agricultural Sciences (UF/IFAS) released a preliminary assessment of the economic losses incurred in Florida agriculture by Hurricane Ian in late September.
Hear our podcast to learn more.
Ag News Highlights
Diesel supply is much lower than normal
As of last week, the U.S. had about a 25-day supply of diesel fuel, the primary fuel used by most farm equipment, while standard inventories are in the 35-40-day range. The short supply is having a dramatic effect on the price of diesel, which is up 50 cents from early October and – at $5.33/gal – is higher than any other time on record prior to 2022. The shortage comes from a combination of the U.S. ban on Russian petroleum imports after the invasion of Ukraine, a major strike at refineries in France, and lower U.S. refinery capacity due to permanent refinery shutdowns during the pandemic.
Russia pauses, quickly resumes grain deal
Russia temporarily pulled its support of the Black Sea Grain Initiative after accusing Ukrainian drones of attacking a Russian fleet of civilian vessels inside a safety corridor in late October. Russia claims the attack was done using maritime drones and suggested they could have been launched from vessels chartered to export food from Ukrainian ports.
On November 1, Russia released a statement indicating that "the necessary written guarantees from Ukraine" had been received and agreed to resume implementation of the initiative. Without Russia's continued support of the initiative, serious concerns would arise regarding food scarcity for the countries which import heavily from Ukraine. Negotiations are currently underway to extend and expand the agreement over the next year.
NOAA releases winter forecast
Amid longstanding drought conditions which encompass much of the country, The National Oceanic and Atmospheric Administration (NOAA) is forecasting little relief for the Western U.S. and southern Plains this winter. Moreover, drought conditions along the Gulf Coast and in the Southeast could worsen. If this forecast proves correct, shipping bottlenecks along the Mississippi River due to record low water levels could continue into 2023.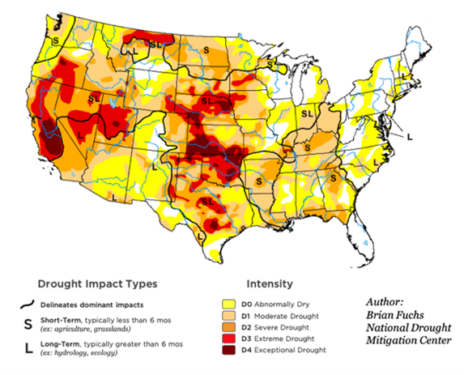 In positive news, wetter-than-average conditions are expected for the Ohio Valley, Great Lakes, northern Rockies, and Pacific Northwest areas — areas which show only modest drought conditions at present.
Citations/Disclaimers
The information in this report is provided by Nationwide Economics and is general in nature and not intended as investment or economic advice, or a recommendation to buy or sell any security or adopt any investment strategy. Additionally, it does not take into account any specific investment objectives, tax and financial condition or particular needs of any specific person.

The economic and market forecasts reflect our opinion as of the date of this report and are subject to change without notice. These forecasts show a broad range of possible outcomes. Because they are subject to high levels of uncertainty, they will not reflect actual performance. We obtained certain information from sources deemed reliable, but we do not guarantee its accuracy, completeness or fairness.