EU farmer protests could impact U.S. ag trade
Massive farmer protests are taking place in the Netherlands — and German, Italian, Spanish, and Polish farmers are joining out of solidarity — in response to the approval of new environmental regulation proposals by the Dutch government.
The Netherlands is a significant exporter of meat, dairy and eggs, and fruits and vegetables. More than half of Dutch ag exports go to Germany, Belgium, France, and the United Kingdom. Depending on the duration and/or outcome of the protests, demand for U.S.-produced ag goods could increase and prices could rise.
Prices for many of these goods, particularly meat animals, dairy products, and eggs are already at multi-year or even all-time highs — driven up by strong cost increases for U.S. farmers. The positive news for farmers here is that any increase in the prices for U.S. ag goods resulting from these protests will not be accompanied by higher costs, adding to farm profits.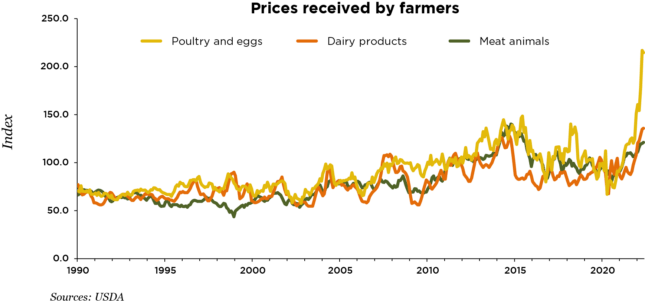 Ag News Highlights
WASDE shows drop in soybean acreage
The World Agriculture Supply and Demand Estimates (WASDE) report for July showed a substantial 135 million bushel cut to soybean production due to reduced soybean acreage (yield estimates were unchanged). The report also showed a 65-million-bushel reduction in soybean exports, which the USDA noted was due to lower supplies.
Brian Splitt of AgMarket.net says weather is the next important factor to watch with regard to this year's soybean yield. The current forecast assumes normal weather during prime growing season, so a turn for the worse could result in further downward revisions to soybean production.
Mixed news from USDA crop condition update
According to the latest USDA crop progress report, 64 percent of the U.S. corn crop is in good or excellent condition, unchanged from a week prior and roughly even with a year ago. The Midwest crop is doing far better than average, while Texas and North Carolina are the major growers with the worst crop condition.
Similarly, the soybean crop condition is close to where it was a year ago, with 62 percent in good or excellent condition (compared with 59 percent for the same week in 2021). The spring wheat crop condition has improved in recent weeks and is far ahead of where it was this time last year; 70 percent of the crop is in good or excellent condition versus 16 percent a year ago. Only five percent of the crop is in poor or very poor condition.
Ag Barometer drops further
The Purdue University/CME Group Ag Barometer fell to its lowest level since April 2020 (the lowest since October 2016 excluding Covid shutdown period). Supply chain issues and inflation have made capital investment both difficult and costly, resulting in a record low farm capital investment index.
Additionally, more than half of the survey's respondents expect their farms to be worse off financially a year from now, which was the most pessimistic response to that question on record. On the upside, short- and long-term expectations for farmland value are very elevated from a historical perspective, but even they have retreated from the highs seen last fall.