Most crop prices drop sharply this summer
Several ag commodities see declines in prices
Recently we've seen a slew of negative month-over-month price growth data for many agricultural commodities. The 12-month changes are all still positive – and some of them very large – but supply and demand factors have begun to ease price pressures.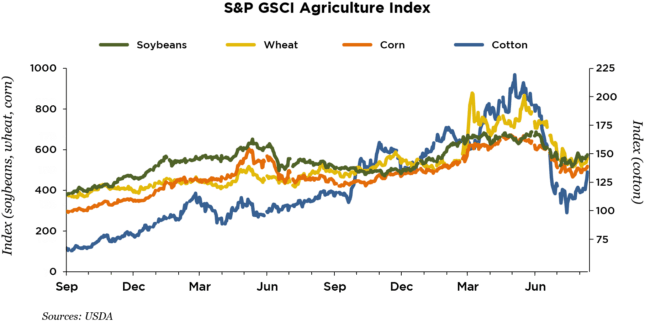 Ag News Highlights
Ukraine resumes grain shipments
In late July, a grain ship left the port of Odesa in Ukraine for the first time since Russia invaded in February. Since then, more ships have left carrying corn, soybeans, sunflower oil and sunflower meal. The shipments are the result of an agreement brokered by Turkey and the United Nations last month after warnings that a continued lack of shipments due to the war could lead to food shortages and, in some places, famine. With three ports now open, Ukraine's export capacity is estimated to be roughly three million tons per month, which is half of the normal capacity.
Hot, dry weather in western Corn Belt
The Corn Belt experienced its fourth hottest week in over thirty years at the beginning of August. Heavy rains fell in parts of the eastern Corn Belt, but this area has been experiencing long-standing drought conditions. Little to no rain accompanied the hot weather in much of the western Corn Belt, where soil was already dry. Last week brought a reprieve, but again most of the relief was felt by the eastern Corn Belt; the western Corn Belt, while cooler than the week prior, still experienced one of the hotter weeks of the last 30-plus years.
The near-term forecast includes more of the same: worsening drought conditions in the west and more rainfall in the east. The weather disparity is likely to continue to be seen in the crop conditions, where corn in the eastern Corn Belt has, on average, been in much better condition than corn in the western Corn Belt.
Ag spending included in Senate bill
The climate, tax, and healthcare bill passed through the Senate last week and includes $20 billion toward the USDA's voluntary land stewardship programs. The money, which is to be divided by various programs, is meant to incentivize the reduction of greenhouse gas emissions and to increase climate resiliency.
Zippy Duval, president of the American Farm Bureau Federation, expressed concerns about the proposed increase in taxes and encouraged lawmakers to focus on addressing record-high input costs and economic growth, among other things. Conversely, the National Farmers Union expressed support for the bill and its additional spending for rural communities.
Citations/Disclaimers
The information in this report is provided by Nationwide Economics and is general in nature and not intended as investment or economic advice, or a recommendation to buy or sell any security or adopt any investment strategy. Additionally, it does not take into account any specific investment objectives, tax and financial condition or particular needs of any specific person.

The economic and market forecasts reflect our opinion as of the date of this report and are subject to change without notice. These forecasts show a broad range of possible outcomes. Because they are subject to high levels of uncertainty, they will not reflect actual performance. We obtained certain information from sources deemed reliable, but we do not guarantee its accuracy, completeness or fairness.