2020 Construction industry outlook
For nearly a decade, the construction industry has experienced strong and steady growth. 2019 was no exception to that trend. According to the U.S. Census Bureau, construction spending in 2019 topped $1.3 trillion.1 While this is good news, it's important to remember that each year, new trends, innovations and issues emerge to affect the construction industry. As a result, construction companies have an incentive to keep their ear to the ground when it comes to examining industry trends and challenges.
Economic uncertainty
Compared to most other industries, the construction sector is heavily influenced by industry developments and the greater economic outlook. For proof, you only need to look at the Great Recession from 2007 to 2009, which was estimated to have cost the United States around 1.5 million construction jobs.2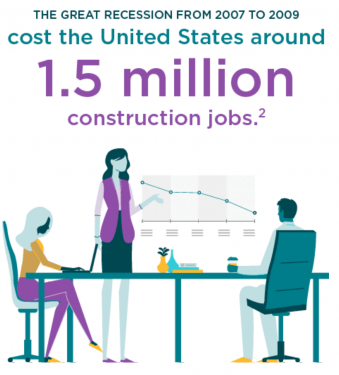 For most construction firms, business has been good for the past decade. Demand has been high, and there's been a need for new commercial buildings as well as building renovations. Additionally, there has been a continued push for improved infrastructure, including bridges and roads, and local governments are turning to construction businesses to ensure these types of projects are finished on time and on budget.
However, the construction market is one of many industries that has felt the impacts of the coronavirus (COVID-19) and the associated widespread business shutdowns. This has introduced a great deal of short- and long-term uncertainty industrywide. Not only has the COVID-19 situation affected project schedules and the material supply chain, but these project delays have also created anxiety among lenders to finance construction projects3. Even in the midst of historically low interest rates, financing for new jobs may dry up, and project owners may need to re-evaluate current or planned projects until the uncertainty passes.

In this environment, construction firms will need to reassess where their projects stand and develop a plan to move forward despite potential disruptions. The current COVID-19 situation has resulted in a dramatic slowdown in the economy, an increase in unemployment – which may or may not be temporary – and the shutdown of many construction projects deemed "nonessential." The impact appears to be magnified in more densely populated urban areas. Even so, emergency service and repairs will still be required (i.e., essential) to keep the lights on. Contractors who perform service and repair work may not be impacted as greatly as those who focus on new construction or renovation work.
It's a reasonable prediction that some (maybe many) businesses will be unable to weather the current economic storm, resulting in unemployment for their displaced workers. Some projects may be canceled or suspended, impacting construction activity. At this point, it's difficult to know what the future holds.
Labor shortages
Hiring for skilled trades continues to be a challenge for many businesses, particularly in the face of a labor shortage. In fact, the labor market is so tight for the construction industry that, according to the Associated General Contractors of America, 82% of construction companies believe filling positions will be difficult for the foreseeable future. There are a number of factors contributing to this shortage, but the primary culprits relate to unemployment rates and educational trends:
Overall, unemployment for all industries is low. When unemployment in construction peaked at 27% in 2010, many workers opted to leave the industry entirely and find work in other areas. This has created a significant gap that has yet to be filled.5
As the baby boomer generation reaches retirement, more open positions are being created – positions that aren't being backfilled by younger workers quickly enough. For context, once all of the baby boomers in the construction industry retire, there will be an estimated 5 million open positions.6 Moving forward, construction firms will face increased pressure to complete projects while contending with recruiting challenges.5
Technical and vocational schools have fallen out of favor, and more high school graduates are pursuing four-year degrees and opting for other industries.7
The labor shortage has a ripple effect, as construction firms are having problems meeting deadlines, containing costs and taking on new projects. To combat the labor shortage, some are increasing pay and offering better benefits to recruit and retain employees. However, as firms become less selective on who they hire in order to meet their staffing needs, job site safety becomes a challenging prospect, particularly as they bring on young, underqualified or inexperienced workers. According to OSHA, workers under the age of 25 are twice as likely to be injured on the job as their older counterparts.8
If there's any silver lining in this uncertain time, it's the potential for an increased labor supply for contractors. For those businesses unable to reopen, their former employees will need to find new jobs. Finding qualified workers will continue to be a challenge for the construction firms, but contractor business owners who can regain skilled workers who have left the industry – or provide adequate training to less-experienced employees – may yet be able to find individuals willing to take on a new career.
Turning to younger workers
According to a survey from the National Association of Home Builders (NAHB), only 3% of people ages 18 to 25 are interested in pursuing a career in construction. This poses a problem for the construction industry, because many workers are retiring with no one to take their place. And the labor market is only getting tighter.9
With these factors in mind, the path forward is clear: Construction companies must do more to effectively recruit younger workers. Luckily, younger generations aren't out of reach – employers just need to understand their motivations and what they're looking for in a career. One way to attract younger generations has to do with technology.
In 2020, the ages of millennials will range from 24 to 39, and the ages of Generation Z – those born between 1995 and 2010 – will range from 10 to 25. While millennials are tech-savvy, Gen Z individuals are digital natives. Although other generations required technology change management, Gen Z will demand technological advancement.
The construction industry has some of the most impressive technology available – the trick is making it appeal to younger workers. Businesses should consider leaning into the tech angle when speaking to young people, referencing the high-tech capabilities of their organization and explaining how they'd use it in their day-to-day jobs.10 For more strategies on recruiting the next generation, review this article.
Technology
While the construction industry is far from new, emerging technologies are impacting the space more than ever before.
Smart project management – Real-time data can help project managers make more informed decisions on tasks such as scheduling and purchasing building materials. This technology can also make documentation of projects easier, leading to greater efficiencies.
Drones – Construction firms are leveraging commercial drones more often. In addition to taking useful aerial photographs of a site, many drones have thermal imaging capabilities and can aid in the inspection of areas that are difficult, time-consuming or unsafe to evaluate.
Wearables – This technology is designed to collect data related to safety, an employee's location, worker biometrics and other key job-site indicators. This data can be used to keep track of workers, improve efficiencies and reduce common employee exposures (e.g., heat stress and ergonomic injuries).13
Robotics – Robots have been used in manufacturing for years and are a widely accepted technology. And while far from common, robots are being used more and more in construction for repetitive tasks such as masonry, bricklaying and painting. Robots are yet another technology that could help with the labor shortage and improve safety by reducing musculoskeletal disorders caused by repetitive or high-intensity tasks.
GPS and telematics – Managing risky driving behavior is a concern for all fleets, and construction firms are no exception. GPS and other telematics systems can identify unsafe behaviors and improve efficiency. These technologies are being more widely implemented by general contractors and other contractors with light- and medium-duty vehicles.
Substance abuse
The opioid epidemic has become a national crisis and is affecting employees across all industries, especially those in construction. In fact, when compared to national averages, construction workers have a 60% higher rate of substance use disorders.14
There are a number of factors that contribute to this issue. One is that construction is primarily a male-dominated field, and studies have shown that men account for 67% of workers with substance use disorders. Additionally, construction jobs are physical, and injuries are not only common but often treated with highly addictive opioids.9
As a result, injury prevention and pain management will be continued areas of focus for construction firms. Businesses need to take the appropriate steps to safeguard their workers and have them work closely with certified medical professionals who can instruct them on pain management options, including less addictive alternatives to opioids. Still, businesses must remain vigilant, as opioid abuse continues to be a pervasive issue across all industries. Businesses must consider this trend and take steps to ensure that worker impairment does not contribute to increased worksite risks. This is especially true in the construction industry, where job sites are physically dangerous and impairment can have significant consequences.
Defect claims
Construction defect claims arise when firms fail to complete a project to an acceptable standard or to an owner's expectations. In particular, a construction defect refers to instances in which a flaw in a project's design, shoddy workmanship or the use of subpar materials causes a component of a construction project to fail.
Construction defect claim concerns are heightened even more during this COVID-19 era. Projects that have been shut down need to be adequately protected from theft, vandalism and, importantly, exposures to the weather, such as wind and rain. Contractors should be taking adequate steps to protect project sites until work can safely resume.
Traditionally, the majority of construction defect claims have originated in a handful of litigious jurisdictions, including Texas, Florida, New York, Colorado and California.15 This becomes apparent when you consider that the number of construction defect claims filed in Florida alone rose from 31 to 1,000 between 2008 and 2017 – an over 3,000% increase in just nine years.16 However, in recent years, these disputes have been spreading across the country. Moving into 2020, these claims are likely to increase in frequency and impact a business's bottom line through project delays and litigation costs.
To address these claims, it's advisable that firms have a quality control program in place that sets workmanship standards for everyone involved in a project, including general contractors and their subcontractors. Furthermore, businesses should have contractual protections in place that clearly state the scope of work and project expectations.
Prefabricated and modular construction
Two construction process trends of note for 2020 relate to prefabricated and modular construction techniques designed to save costs:
Prefabricated construction – Some elements of a project are built off-site, typically in a controlled, factory-like environment. Once these elements are completed, they're shipped to the job site and installed.
Modular construction – Entire units of a building are constructed off-site and then transported to a job site where they are essentially stacked on top of other modular components to create one cohesive structure. In many cases, plumbing, electrical and design finishes are preinstalled in these modular units.
While these techniques are on-trend, they aren't always desirable for insurance. They can create insurance exposures such as material and structure transport, as well as risk transfer exposures from relying on an outside manufacturer to create exactly what's needed.
Sources
5

"Unemployment rate 5.0 percent in construction, 1.9 percent in information industry, in December 2019," bls.gov/opub/ted/2020/unemployment-rate-5-point-0-percent-in-construction-1-point-9-percent-in-information-industry-in-december-2019.htm?view_full (Jan. 15, 2020)

7

"Baby Boomers retiring, leaving many open trades positions," Taryn Netzer, (June 11, 2019).

9

"Dealing With the Construction Workforce Shortage," Rose Hall, irmi.com/articles/expert-commentary/dealing-with-the-construction-workforce-shortage (February 2019).